Chandigarh, April 02: Recently, the Punjab government has achieved a major milestone in its efforts to combat lumpy skin disease (LSD). The government has successfully vaccinated over 90 per cent of its cattle population against this dangerous disease.
The animal husbandry department of Punjab is close to achieving 100 per cent vaccination target of the 25 lakh cattle in the state against the deadly LSD and has inoculated more than 22 lakh of them.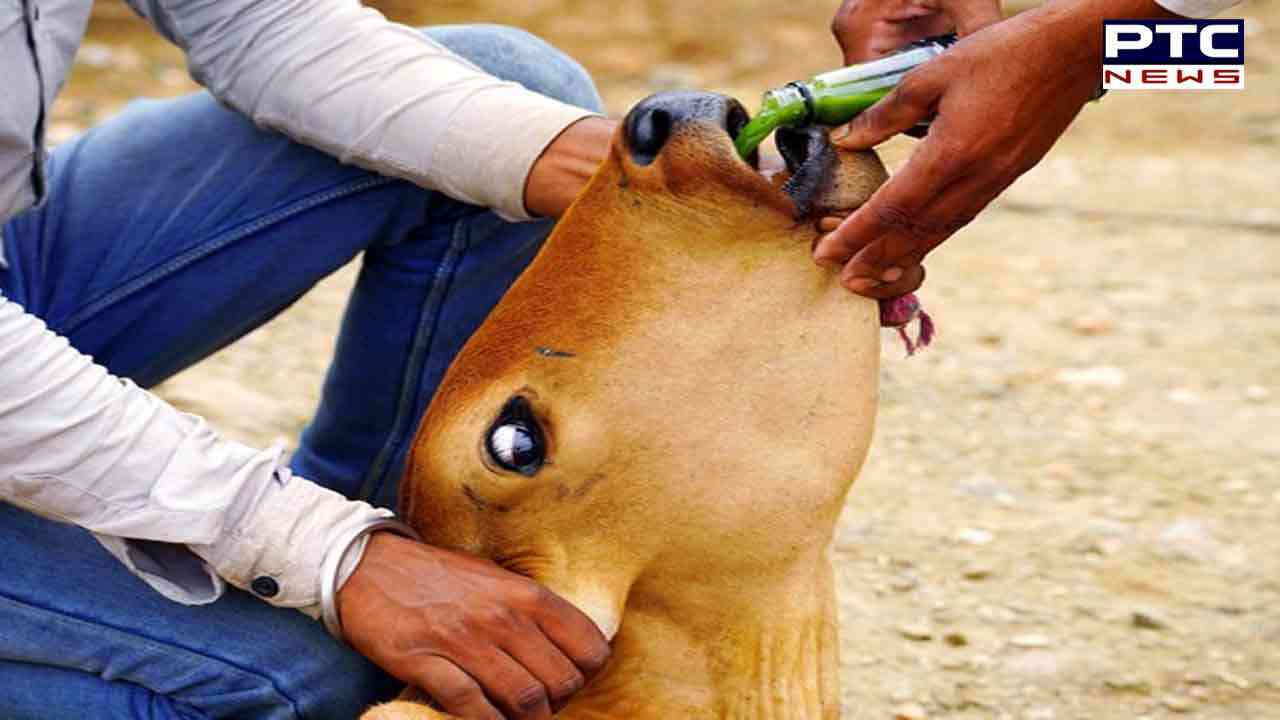 Also read: India logs 3,824 new Covid-19 cases, highest single-day spike
According to official statement issued, Animal Husbandry Minister Laljit Singh Bhullar said that the vaccination drive is nearing completion ahead of the April 30 deadline.
"The vaccination drive for early protection of cattle from LSD was initiated on a war footing on February 15, 2023 with 773 dedicated veterinary teams of the animal husbandry department," he said.
"We have completed 90 per cent vaccination till date, with more than 22,58,300 cattle already vaccinated," the minister said, adding the Chief Minister Bhagwant Mann-led government has set a target of vaccinating all the 25 lakh cattle in the state under this mega campaign.
Lumpy skin disease, also known as pseudocowpox, is an infectious and sometimes fatal disease of cattle and other bovine species. It is caused by the virus Cytomegalovirus (CMV). The virus affects the skin, causing raised lumps or nodules, and can cause fever, loss of appetite, and reduced milk production.
The Punjab government has been working hard to control the spread of LSD since 2017. This included the introduction of stringent monitoring systems to track and trace infected animals, as well as the use of vaccines to protect healthy animals. As part of this program, the government has now vaccinated over 90 percent of cattle in the state. The remaining 10 percent will be vaccinated soon.
The vaccination drive has been a success, thanks to the hard work of the Punjab Livestock Department and the active involvement of veterinarians and livestock farmers. The government has also taken steps to educate farmers on the importance of vaccinations and how to detect signs of LSD in their animals.
The success of the vaccination drive is a major step forward in the fight against LSD in Punjab. It is expected that the state will soon be declared free from the disease. The government is now turning its attention to other animal diseases, such as foot and mouth disease and anthrax, in order to ensure the health and safety of Punjab's livestock.
Overall, the Punjab government's efforts to combat lumpy skin disease have been a great success. The vaccination drive has been an important step in the right direction, and the government is committed to continuing its efforts to ensure the health and safety of its livestock.
Also Read: Bihar Ram Navami violence: 1 killed, six injured while handling explosives
- With inputs from agencies