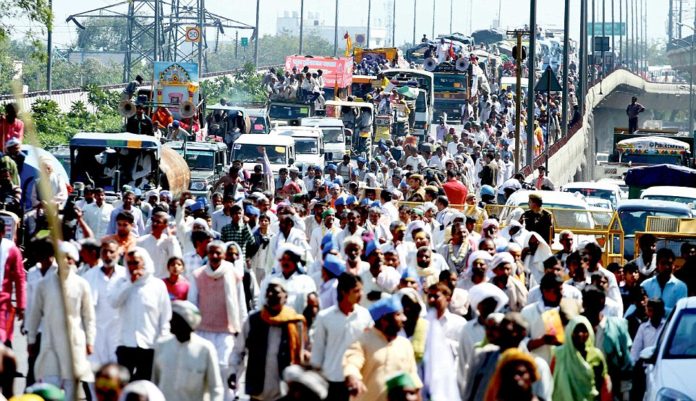 Traffic stands still as lakh protesters march in Delhi
Streets in Central Delhi were jam packed as over one lakh farmers, workers and labourers marched through arterial roads from Ramlila Maidan to Jantar Mantar, demanding loan waiver, better wages and improved return for their crops.
Sources from the traffic department said that the organisers had told the police a week in advance that there could be 3 lakh people coming for the protest march.
Barakhamba Road, Tolstoy Marg, Copernicus Marg, Kasturba Gandhi Marg, Baba Kharag Singh Marg, Delhi Gate, Paharganj Chowk, Janpath and the Ranjit Singh flyover intersection were among the worst hit stretches.
The hold-ups started from 9 am, when the protesters started marching from Ramlila Maidan, and continued till around 6pm — much after rally got over.
"Traffic advisories were issued and regular updates were also put up on our Twitter and Facebook pages to warn commuters of the rally. However, in such as large scale protest it is difficult to give a minute-by-minute account of the movement," said joint commissioner of police (traffic) Alok Kumar.
-PTC News