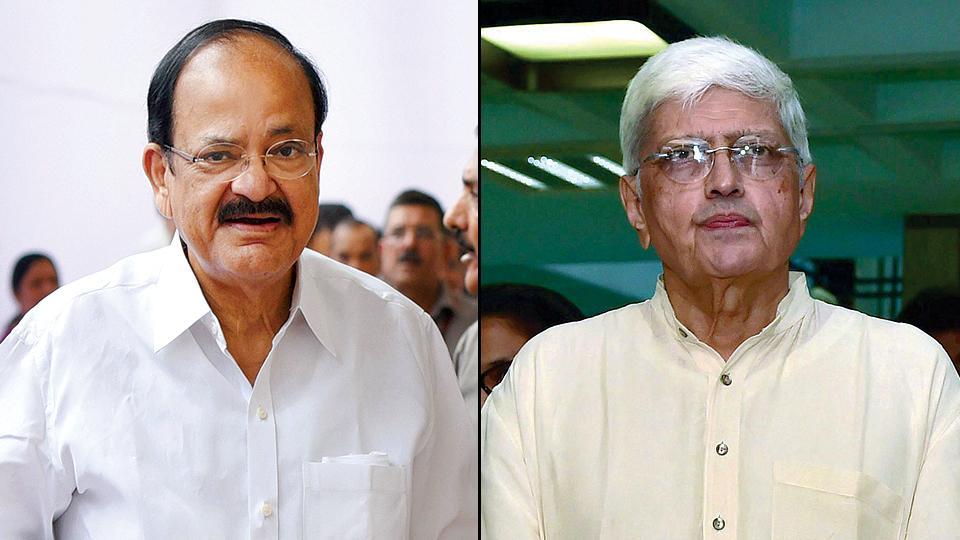 Members of Parliament have started casting their vote to elect the next Vice President of India. The battle ground witness M Venkaiah Naidu and the opposition's Gopalkrishna Gandhi. While Naidu has the support of NDA parties, AIADMK, TRS and YSRCP, Gopalkrishna Gandhi is supported by RJD, JD(U), NPC and other parties.
The voting for the next Vice President has begun this morning at 10 am, it is likely to go on till 5 pm in the evening. Result will be announced at 7pm.
90.83 percent voting till 1 pm in vice presidential elections, said Assistant Returning Officer Mukul Pandey.
Recent updates on the VP elections
The candidate who gets 51percent of the total votes will win the election, becoming the Vice President of India.
Prime Minister Narendra Modi, Venkaiah Naidu and Uttar Pradesh Chief Minister Yogi Adityanath were among the first to cast their vote.  Congress President Sonia Gandhi, Vice President Rahul Gandhi, Union Minister Nitin Gadkari, and Congress parliamentarians Jyotiraditya Scindia, Deepender Singh Hooda and Sushmita Dev have cast their vote.
BJP is the single largest party with 281 members out of 545 of Lok Sabha, and 58 members out of 245 in the Rajya Sabha. The NDA led by BJP has 33 members. Keeping high hopes on Venkaiah Naidu.
Although JD(U) has made alliance with BJP to form a new government in Bihar after breaking ties with 'mahagathbandhan'. According to reports, they will be casting vote for Mr Gandhi, a former West Bengal governor.
Harsimran Kaur Badal tweets wishes for Naidu. 'Wishing success to @MVenkaiahNaidu ji for the #VicePresidentalElection today'the tweet said.
The results will be declared around 7 pm in the evening today. The votes will be counted from 5 to 7 and so the results will be announced by 7 pm., says Election Commission officials.
"I am a non-party man. Majority of the political parties are supporting me. I am confident that they will vote in the polls," Venkaiah Naidu told reporters this morning.
"NDA's pick is a very experienced person. My contest is not with him, though it's on technical grounds. This election is not between 2 parties or individuals," said Gopalkrishna Gandhi, the opposition's nominee.
The existing term of the incumbent Hamid Ansari, who has held the post for two consecutive terms, will come to an end on August 10.
The total strength of the two Houses is 790, with two vacancies in the Lok Sabha and one in the Rajya Sabha.
The Biju Janata Dal and the Janta Dal (United) which had supported NDA nominee Ram Nath Kovind for the post of president have now decided to back opposition's nominee Mr Gandhi.-PTC News