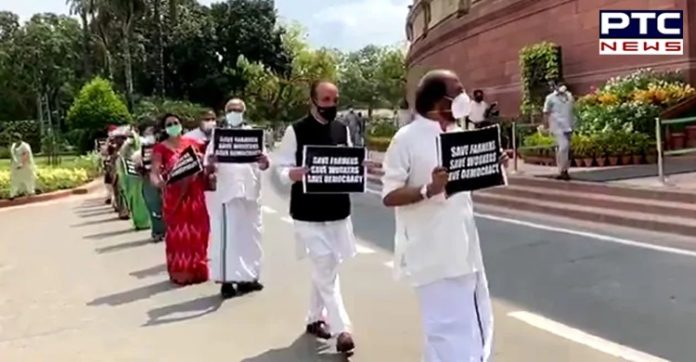 Senior Congress leader Ghulam Nabi Azad on Thursday announced that 16 opposition parties will be boycotting the President's address to joint sitting of Parliament at the start of the Budget session.
Also Read | 550 Twitter accounts suspended after violence during Republic Day tractor rally

Azad said, "We are issuing a statement from 16 political parties that we are boycotting President's Address that will be delivered at Parliament tomorrow. The major reason behind this decision is that the Bills (Farm Laws) were passed forcibly in House, without Opposition,"
Besides Congress, the 15 other parties are NCP, Shiv Sena, AITC, DMK, JKNC, SP, RJD, CPI(M), CPI, IUML, RSP, PDP, MDMK, Kerala Congress and AIUDF.
16 opposition parties to boycott President's Address to Parliament Friday. @IndianExpress pic.twitter.com/LCEqAqKu44

— Manoj C G (@manojcg4u) January 28, 2021
Earlier in the day, continuing his attack on the Centre over the three farm laws, Congress leader Rahul Gandhi said the country would have been on fire all farmers understood the finer print of the laws.
The 16 Opposition parties also demand a probe into the Centre's role in violence on Republic Day in Delhi, said the leader of the Opposition in Rajya Sabha while speaking to the media with Congress' chief whip in Lok Sabha, K Suresh, by his side.

The Congress on Wednesday had held Union Home Minister Amit Shah responsible for the violence that shook the national capital on Republic Day and said he should be sacked immediately.
Also Read | MLA of INLD, Abhay Chautala, Haryana resigns over farm laws
The Congress had also accused the Modi government of being part of a concerted conspiracy to malign the farmers' agitation by allowing some miscreants to enter the Red Fort complex and hoist a religious flag, in their bid to ensure that the farmers bury their demand for the repeal of the three new agriculture laws.
President Ram Nath Kovind would address the joint sitting of the two Houses of Parliament on January 29.
-PTC News