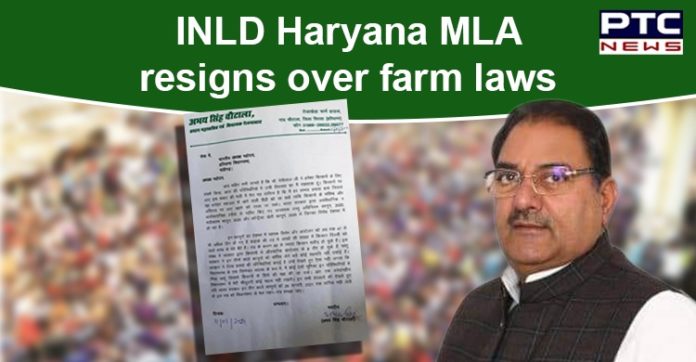 Abhay Chautala, the MLA of Indian National Lok Dal (INLD) in the Haryana Assembly has handed over his resignation to Speaker in protest over the Centre's three new farm laws.
Also Read | VM Singh, AIKSCC withdraw themselves from farmers' protest

He drove a tractor to the Vidhan Sabha with his supporters and tendered his resignation to Speaker Gian Chand Gupta.
However, Gian Chand Gupta has accepted his resignation.
A statement issued by the Speaker read, "A few moments ago, Shri Abhay Singh Chautala who represents Ellenabad assembly constituency. He came to me personally and tendered his resignation. I believe that the resignation that he has submitted is correct in all technical aspects. I have accepted it. He has referred to his earlier two letters that he had sent to me citing union government's refusal to accept farmers' demands,"
Earlier this month, he had said to resign from State Assembly if the Union government fails to repeal the three farm legislations. He had sent a letter to the Speaker expressing his support to the farmers and had asked him to consider it as his resignation. However, the Speaker had not accepted the letter, saying that "a conditional letter cannot be considered as the MLA's resignation".
Abhay Chautala has blamed the BJP Government for the Republic Day violence in Delhi.
Also Read | China says Indian ban on apps violates WTO rules
Farmers have been protesting at Delhi borders since November 26. Despite 11 rounds of meeting between the farmers and the Centre, no conclusion has come out so far. No date has been fixed for the next meeting.

The farmers have been protesting against the Farmers (Empowerment and Protection) Agreement on Price Assurance and Farm Services Act, 2020, Farmers' Produce Trade and Commerce (Promotion and Facilitation) Act, 2020, and Essential Commodities (Amendment) Act, 2020.
-PTC News