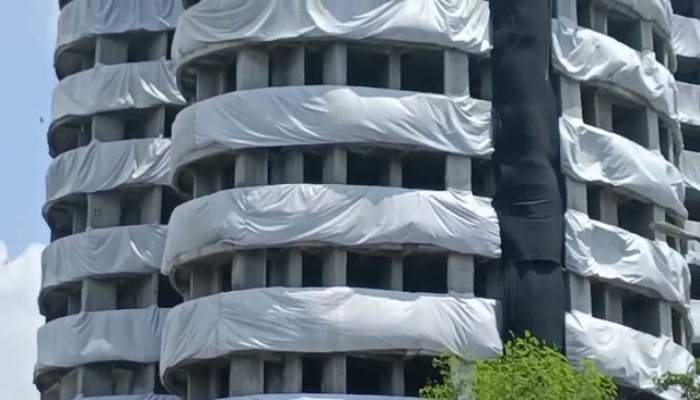 Noida, August 28: Noida's Supertech twin towers are all set to be demolished today at 2.30 pm, putting an end to a 9-year-long battle just in 15 seconds.

Also Read |Justice UU Lalit takes oath as 49th Chief Justice of India at Rashtrapati Bhavan
The towers, Apex (32 storeys) and Ceyane (29 storeys), part of the Emerald Court, were found to be in violation of multiple regulations regarding construction following which a long legal battle was fought in the Allahabad High Court and then the Supreme Court of India which culminated in favour of the Residents Welfare Association. The morning visuals from the spot of demolition showed the cranes arriving, while the police were seen announcing to vacate the area around the Supertech Twin Towers in Sector 93A.
A combined force of NGOs is working to rescue dogs at the last moment before the Supertech Twin Towers demolition today.
"We have today saved almost 30-35 dogs. We're working on getting out each and every one of them," said an NGO member.
A family who lives in Emerald Court Society has vacated their flat and shifted to Parsavanath Village. Himanshu, a resident, said that they have been assured that they can shift by evening, but all are prepared for one or two days.
According to an official, the expressway will be closed just before the blast and will be opened again half an hour after the demolition.
"Expressway only to be closed right before the blast at around 2.15 pm. It will be opened half an hour after the blast, soon as the dust settles down. An instant command centre has 7 CCTV cameras. Traffic expert here along with us, monitoring all congestion points," said DCP Rajesh S.
560 police personnel, 100 people from reserve forces, 4 Quick Response Teams and NDRF team have been deployed on the spot to tackle any untoward situation.
"Traffic diversion points have also been activated," said the official.
The demolition of the Apex (32 storeys) and Ceyane (29 storeys) towers would leave behind approximately 35,000 cubic metres of debris that would take at least three months to be cleared.
The go-ahead for demolishing the twin towers with explosives was given by the Supreme Court.
The health impact of the resulting dust on residents will be minimal as experts overseeing the demolition will take steps to control the impact.
-PTC News with ANI Inputs