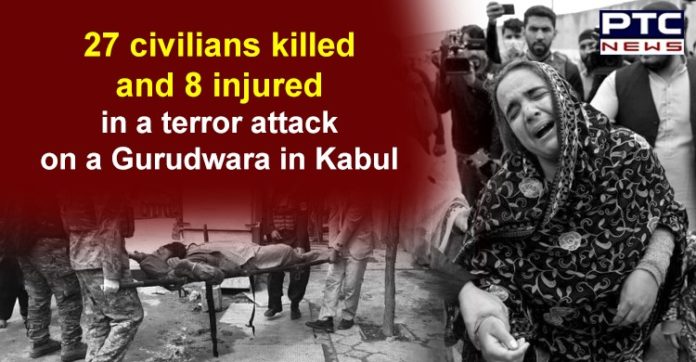 In a major incident, at least 27 civilians were killed and 8 were injured in a terror attack on a Gurdwara Har Rai in Kabul, Afghanistan on Wednesday. Meanwhile, all 4 terrorists have been killed by the Afghan security forces. On Wednesday morning, unknown gunmen and suicide bombers stormed into the Sikh religious premise.

Interior Ministry spokesman Tariq Arian said that the defence forces have cordoned off the area. A minority Sikh parliamentarian, Narindra Singh Khalsa, said that he was near the Gurdwara when the attack took place. Shiromani Akali Dal President Sukhbir Singh Badal condemned the barbaric attack on Gurdwara Har Rai.

Violence in Afghanistan
During the ongoing political crisis in Afghanistan, an attack, that took place last week, in the military base in southern Afghanistan led to the killing of at least two dozen security personnel. The Afghan officials hinted a "connection" of attack with the Taliban. However, the militant group did not claim the responsibility for the attack.
In a video statement on earlier this month, the acting Defense Minister Asadullah Khalid stated that the Taliban has continued high level of violence despite the agreement of peace.
Also Read | Virat Kohli, Anushka Sharma stand strong with PM Modi's decision of nation-wide lockdown
Adding, Khalid said that an active defense posture will reduce the restrictions on ANDSF (Afghan National Defense and Security Forces) and also it will allow them to carry out operations against the Taliban, who are plotting attacks against ANDSF.
-PTC News