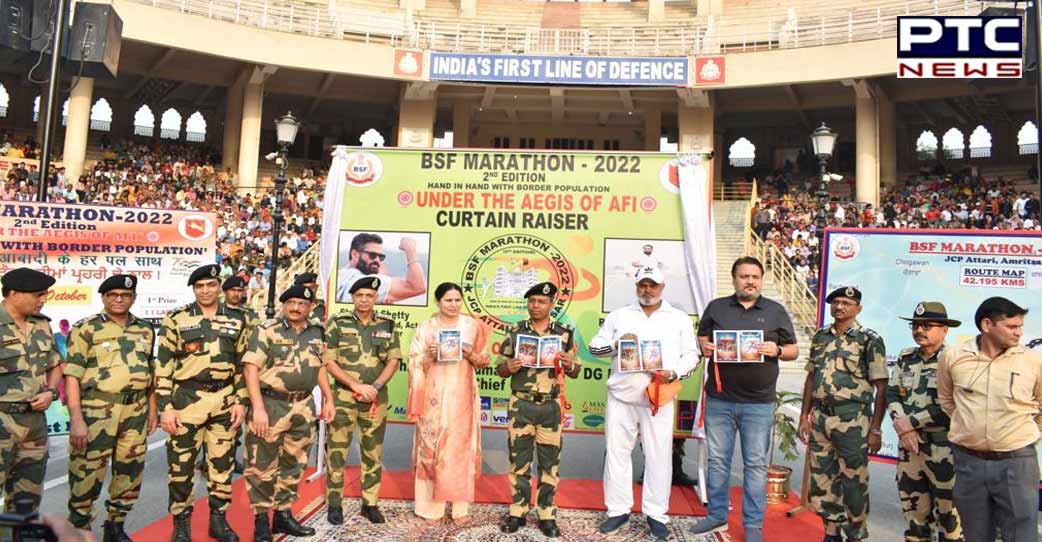 Amritsar, October 21: On the occasion of Amrit Mahotsav of Azadi, "First Line of Defense of India" Border Security Force will run Full Marathon, Half Marathon and 10 Km with the objective of "Hand in Hand with Border Population" at JCP Attari, Amritsar on 29 October 2022.

The objective of this marathon is to promote the spirit of adventure and national integration among the people living on the borders, especially the youth.
Also Read | Researchers at Boston University 'develop' new Covid strain with 80% death rate
The inauguration ceremony of the marathon was held on 20 October 2022 at the Joint Check Post (JCP), Attari. In which Arjuna Awardee Ms. Suman Sharma, Ghyanchand Awardee in Athletics Mr. Kuldeep Singh Bhullar, Former DC, BSF and Mr. Asif Jalal, IPS, Inspector General, Punjab Frontier participated.
In this race, both age groups of men and women above 40 years and below 40 years have been kept for participation. The minimum age for participation is 18 years. In this, along with the general public, members of the security force can also participate. The marathon will start from three locations in Amritsar, Punjab and end at the Attari border.
The top five winners in this marathon will get an attractive cash first prize of Rs. 1,00,000/- in Full Marathon, Rs. 50,000/- for Half Marathon and Rs. 25,000/- for 10 KM run for both the age groups. Will be for men and women.
However, there is no entry fee for students, frontline men and members of the force.
Also Read | Bigg Boss 16: Tina Datta breaks down on sets
A web link in the form of https://evantik.runizen.com/e/bsf-marathon has been created for the registration of civil participants, in which the last date of registration will be 25 October 2022.
-PTC News