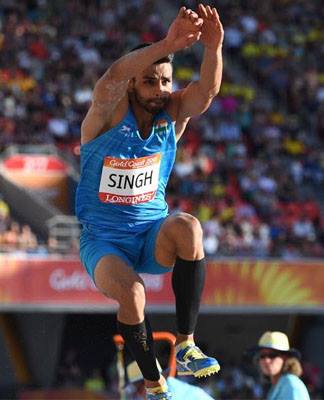 18th Asian Games: Apinder Singh gets India its 10th gold, fourth in athletics
Triple jumper Apinder Singh did India proud by winning the hop, step and jump event to give the country its 10th gold medal,fourth in athletics, in the 18th Asian Games on Wednesday. The gold, third in field events, is keeping India in hot chase of China for number one position in athletics.
Earlier in the day, Dutee Chand gave India a silver medal in 200 m run for women. This was Dutee Chand's second Silver medal of the games.
Apinder's gold medal winning triple jump came from from his third attempt as he cleared 16.77 m while his second attempt was 16.58 m.
His team mate Rakesh Babu Arayan Veettil finished sixth by clearing 16.40 m.
The silver and bronze medals went to Uzbekistan and China respectively.
Twentysix-year-old Amritsar born Apinder Singh now represents Oil and Natural Gas Commission. He had finished fifth in the last Asian Games in Incheon. In the just concluded Commonwealth Games he was placed fourth though in the 2014 edition of the games, he had won a bronze medal.
With a gold and a silver in athletics and a bronze in table tennis (mixed doubles), India has taken its medals tally to 53 with 10 gold, 20 Silver and 23 bronze medals. India is also hoping for a medal in women's heptathlon late in the evening.
-PTC NEWS