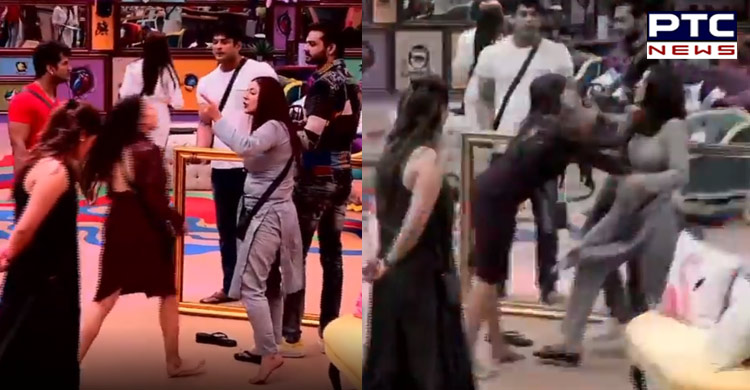 Bigg Boss 13: Soon after Siddharth Shukla and Asim Riaz went into a fight, Punjab-based Shehnaz Gill and Himanshi Khurana have also found themselves in a fight. In a promo released, Himanshi pushed Shehnaz as she said "don't talk to me like that." Paras Chhabra was seen provoking Shehnaz Gill after which Shehnaz went to Himanshi and started arguing.
https://www.instagram.com/p/B5KI0CoAuCl/
In fact, Shehnaz asked Himanshi, "What can you do? What is your status?" Afterwards, Himanshi Khurana said, "Don't you dare to talk to me like that." Meanwhile, Himanshi was talking to other housemates. She said "I don't want to talk to her, so ask her not to talk to me." Himanshi Khurana and Shehnaz Gill have an outside controversy as well, which is why Shehnaz started crying when Himanshi entered the house.
https://www.ptcnews.tv/bigg-boss-13-shehnaz-gill-and-himanshi-khurana-perform-gidda/
Meanwhile, Salman Khan himself has tried to sort out things between Shehnaz and Himanshi but that didn't work. Recently, Siddharth Shukla and Asim Riaz fought, after which the team was divided again. Shehnaz was in support of Shukla, while Himanshi was supporting Asim.
Earlier this week, Salman Khan told Himanshi that she was not active in the house. Afterwards, Himanshi started showing her participation in the tasks. While the promo shows the fight between Shehnaz and Himanshi, the reason was still not clear.
-PTC News