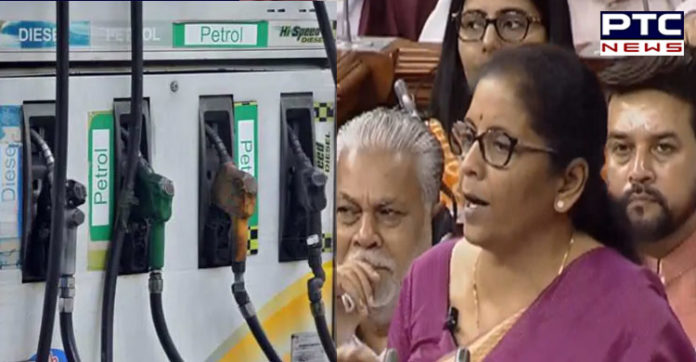 Budget 2019: Finance Minister Nirmala Sitharaman on Friday took the Bahi Khata in Lok Sabha and presented the Budget 2019 of PM Narendra Modi Government 2.0. Petrol and Diesel prices are set to rise by Rs 2 per litre as Finance Minister Nirmala Sitharaman increased the special additional excise duty (SAED) as well as Road and Infrastructure Cess by Rs 1 per litre on automobile fuels. Currently, the government is charging Rs 7 per litre of SAED on petrol and Rs 1 litre on diesel. Also, Rs 8 per litre is charged on Road and Infrastructure Cess among Petrol and Diesel.
FM Nirmala Sitharaman: I propose to increase special additional excise duty and road and infrastructure cess each one by 1 rupee a litre on petrol and diesel pic.twitter.com/y9DoC5IGIX

— ANI (@ANI) July 5, 2019
The previous budget 2018-2019 was having the excise duty on Petrol and Diesel by Rs 2 litre, however, the decision did not result in a reduction among fuel prices as the cut in duty was offset by an additional cess of Rs 8 per litre in term of cess of Road and Infrastructure on petrol and diesel both. Currently, the price of Petrol is Rs 70.51 while the diesel costs Rs 64.33 per litre in the national capital.
Also Read: Budget 2019: Finance Minister Nirmala Sitharaman drops briefcase for 'Bahi Khata'
Finance Minister Nirmala Sitharaman is the first women to be a full-fledged Finance Minister presented the Budget 2019 in Lok Sabha, here on Friday. Likewise, Prime Minister Narendra Modi lauded Nirmala Sitharaman for the budget which is the budget of hope.
-PTC News