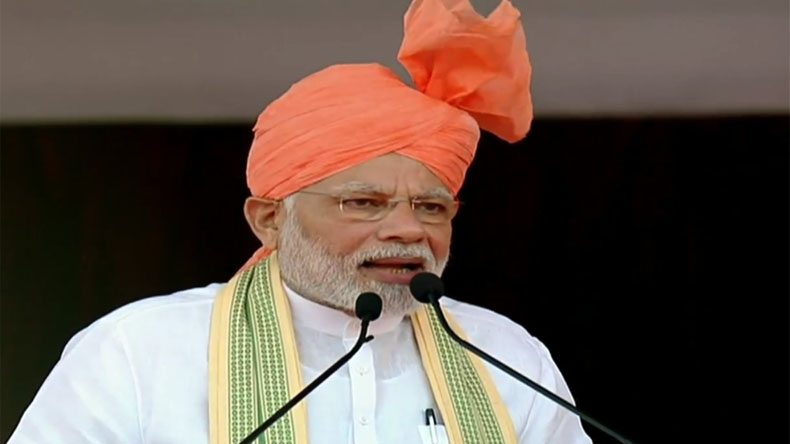 Prime Minister Narendra Modi Tuesday unveiled a statue of peasant leader Sir Chhotu Ram in Sampla near Rohtak in Haryana, using the occasion to highlight the NDA government's initiatives in the agriculture sector.
The 64-feet-tall statue is installed in Sampla the native village of Chhotu Ram and also the bastion of former Haryana chief minister Bhupinder Singh Hooda.
The prime minister said he was surprised that the influence of Chhotu Ram was kept confined to the region. This deprived several generations from learning from his life, he said.
Chhotu Ram had played an instrumental role in empowering farmers in the pre-Independence era and getting pro-farmers laws enacted. He had also fought for farmers' rights during the British Rule.
Highlighting his government's initiatives for the welfare of farmers and traders, Modi said," The doors of banks have been opened for farmers and small entrepreneurs so that they do not have to depend on money lenders."
The prime minister said his government has been constantly working to ensure that farmers get remunerative prices for their crops.
The government is also providing farmers insurance cover for crops, modern seeds, sufficient quantity of urea and good system of irrigation, and ensuring soil health, Modi said at a public meeting here.
He said in Haryana, about 66.50 lakh Jan Dhan accounts have been opened.
The prime minister, after unveiling the statue, visited a museum built in the memory Chhotu Ram.
The museum is based on the life of the peasant leader and items related to him are on display.
Union Minister Birender Singh, the maternal grandson of Chhotu Ram, and Haryana Chief Minister Manohar Lal Khattar attended the unveiling ceremony.
Congress MP Deepender Hooda, Haryana BJP chief Subhash Barala were also present.
Padma Bhushan recipient Ram Vanji Sutar has sculpted the 64-ft tall statue and as many as 5,500 farmers of the state donated from half kg to 2 kg iron for its construction. PTI