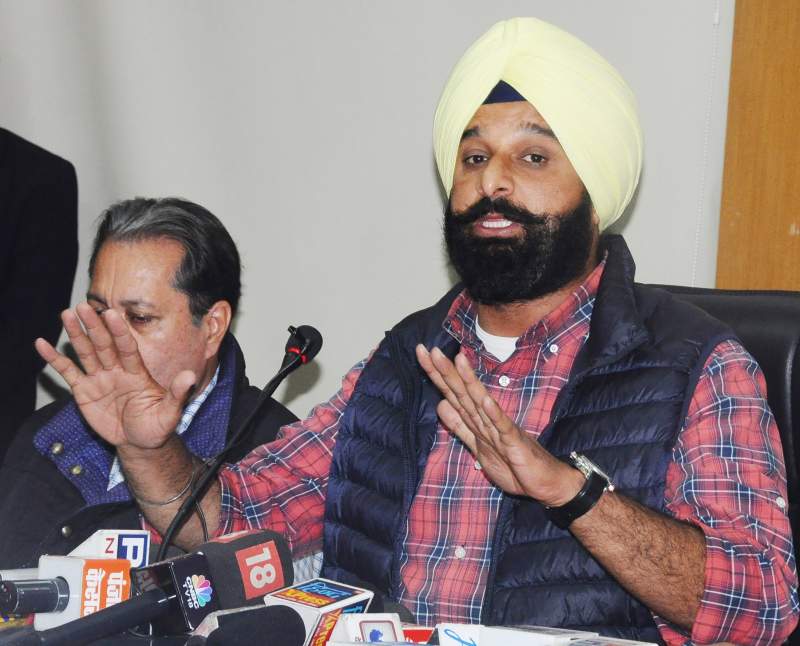 The Shiromani Akali Dal (SAD) today said the Congress government had cheated and betrayed the trust of the people of Punjab by reneging on each and every promise made to farmers, khet mazdoor, youth, dalits, industry and government employees during the last two years and said the government was characterized by repression, corruption, misgovernance, hyper taxation and non-performance.
"If there is one thing the Congress government has delivered upon it is the politicization of the probe into the Kotkapura and Behbalkalan incidents by first forming the Ranjit Singh Commission and now a SIT which is controlled by the Congress party. All serious issues like forming a Lokpal, tabling assets of officers and providing legal aid to SC and BCs have been put on the backburner".
Addressing a press conference on the occasion of completion of two year tenure of the Congress government which the SAD is marking as Vishvasghat Divas, former minister Bikram Singh Majithia said the Congress government had not only failed Punjabis but had caused untold misery and hardship to the people by denying them social welfare benefits like Shagun scheme, old age pension, scholarships, mid day meals, text books and even school uniforms. As many as 800 schools were closed. "Never before in the history of the State has any government performed so poorly on all fronts. It seems there is no government in Punjab", he added.
Stating that the government was indulging in a PR exercise to hide its utter failure, the Akali leader said the first and foremost failure of the government was its inability to implement the Rs 90,000 crore complete loan waiver promise made by chief minister Capt Amarinder Singh. He said this failure had resulted in an increase in farm suicides which had crossed the 900 mark. "Even these suicide victim families are not getting the promised Rs 10 lakh compensation or government jobs as promised", he said while asking Congress president Rahul Gandhi if this was the model he was trying to sell elsewhere. "Rahul Gandhi went to Mandsaur twice in one year to console six farmer deaths but did not have time to visit Punjab even once to console 900 farm suicide victim families".
Mr Majithia said the farm sector had suffered the most in Congress rule with sugarcane farmers not being given their dues, which had accumulated to Rs 900 crore again. He said State Assured Price (SAP) of sugarcane was kept lower than Haryana and Uttar Pradesh causing a loss of Rs 10,000 per acre to farmers. He said similarly potato crop was allowed to go to rot and the inhuman Congress government refused to offer any package to compensated potato growers. He also highlighted how the government had refused to procure maize on msp.
Speaking about governance, the SAD leader said the tenure was marked by corruption and misuse of State resources while pointing out the sack of Rana Gurjit from the cabinet for trying to take over sand mines through benami deals. He said other Congress leaders also monopolized illegal sand mining in their own hands with self proclaimed projected revenue coming down from Rs 1,000 crore to a mere Rs 32 crore. "Relatives and people close to finance minister Manpreet Badal were accused of levying Goonda Tax in Bathinda. Other ministers were more known for the manner in which they misbehaved with women with Sadhu Singh Dharamsot misbehaving with a woman School principal, Bharat Bhushan Ashu insulting a DEO and Charanjit Channi sending inappropriate messages to a lady IAS officer. Even Congress mla Devinder Ghubaya misbehaved with a woman SHO".
Stating that an entire generation of youth had been betrayed by the Congress government, Mr Majithia said the youth were promised jobs in each household under the ghar ghar naukari scheme. "What they got was fake job melas. Even the Rs 2,500 per month unemployment allowance has not been given to anyone. In fact the government has played a cruel joke on youth by registering only 150 unemployed youth".
Mr Majithia said the SAD had been demanding that the loans of khet mazdoor be waived off on the pattern of farmer, but nothing was done on this front in two years. He said similarly Dalits were discriminated against with SC students not getting scholarship amounting to Rs 1185 crore. He said Dalit and OBC brides were not given shagun amounting to Rs 100 crore. He said even the 200 unit per month free power facility given to SC consumers had been affectively taken away from them.
Saying the common man had been most burdened by the Congress government, Mr Majithia said power tariff had been increased eleven times during the last two years putting an additional burden of Rs 12,000 crore on the people. He said even the industrial sector had been cheated. "After being promised power at a flat rate of Rs 5 per unit, they have been given the same at Rs 8 per unit". He said the common man also had to shell out more for petrol and diesel during Congress rule with the government remaining steadfast and not reducing its tax rates for nearly one year. He also condemned the Professional Tax burden put on the common man.
Stating that none had been spared, the Akali leader said State employees had not been give DA installments worth Rs 4,000 crore. He said more than 27,000 employees due for regularization after the SAD-BJP government passed an Act in this regard, had not been regularized till now. "Less said the better about the treatment meted out to those agitating for their rights with even women teachers being manhandled", he added.
Mr Majithia said Punjab had also lost out as far as investment and ease of doing business were concerned. "The government is taking credit for investments which were sanctioned during SAD-BJP tenure including the ITC plant. Its performance can be seen from the fact that the State has slipped from the number one slot in ease of doing business during SAD-BJP tenure to number 20 now", he added. The SAD president's Political Secretary Charanjit Singh Brar ,Nashattar Singh IT President SAD was also present at the press conference.