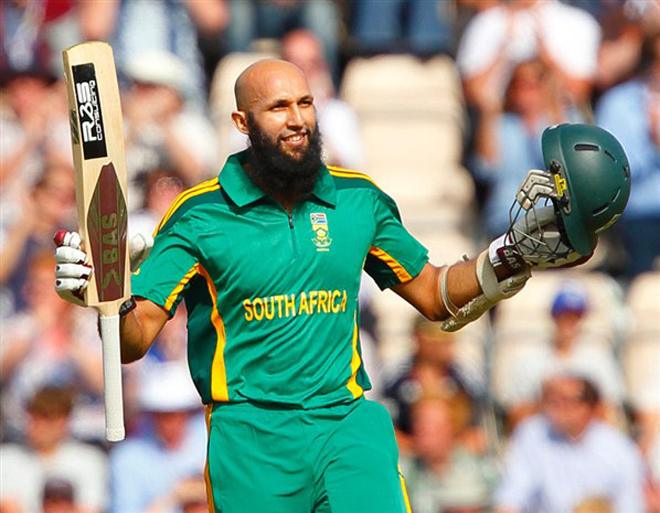 London: South Africa skipper AB de Villiers has hailed the "amazing" Hashim Amla after the Proteas opener set yet another batting record by becoming the fastest player in history to reach 25 ODI hundreds.
Amla's latest masterpiece, in just his 151st ODI innings, was the mainstay of South Africa's 299/6, a commanding total on an Oval wicket that proved too much for Sri Lanka's batsmen to chase down during their Saturday's Champions Trophy clash.
"It was an amazing innings," de Villiers said.
"Hash did really well to assess the conditions, and communicated well with us what kind of score was going to be good. It was important for the first 10-15 overs not to lose too many wickets. There was quite a lot in that wicket early on, it was really tough to score. Both of them [Amla and opening partner Quinton de Kock] normally bat around a hundred strike rate without even trying, so that told the story," he added.
When de Kock departed in the 13th over, South Africa were on just 44, but thereafter Amla and Faf du Plessis wrenched back control of the match.
"Faf played exceptionally well coming in that situation," de Villiers added. "We were going at around just under three an over when he came in to bat, so there was big pressure there. They did really well to shift it back to Sri Lanka."
In terms of the number of innings required to reach the 25-century milestone, Amla is comfortably out on his own.
To put his achievement in context: Virat Kohli, acknowledged as perhaps the most complete ODI run-maker of the century, required 162 innings; Sachin Tendulkar 234, Ricky Ponting 279, and Kumar Sangakkara 379. Amla needed 151.
His 103 from 115 balls only ended with a run out, contained five fours and two effortless sixes. He now boasts 51 international hundreds across Test and ODI formats.
"He's an amazing player and a great asset for us," de Villiers said. "And not just on the field but off the field. He's a great human being. I'm so very happy for him, all the runs he's scoring, hopefully we have many more years of it."
For all Amla's serene brilliance, it was Imran Tahir, who claimed the Man of the Match award. A four-wicket intervention - including a superb goggly in his first over to befuddle Chamara Kapugedera - plus a direct hit from mid-on to remove Suranga Lakmal, was enough to claim the award and in the process reassert his position as one of the champion ODI bowlers of his era.
The Proteas will next lock horn with Pakistan on June 7 at Edgbaston, Birmingham.
—ANI