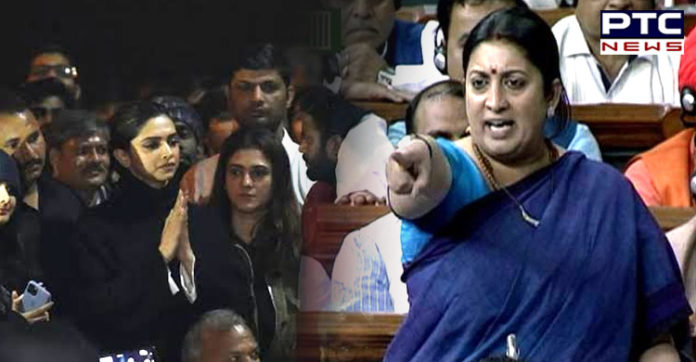 Union Textiles Minister Smriti Irani took a dig at Bollywood diva Deepika Padukone, stating that the she cannot be denied the permission to stand with Tukde Tukde gang that calls for the destruction of India. While speaking at a Conclave in Chennai on Thursday, Smriti Irani said that she would like to know Deepika Padukone's political affiliation.
The Bollywood actress Deepika Padukone, whose film Chhapaak based on the story of an acid attack survivor released on Friday, has been in the headlines for visiting the Jawaharlal Nehru University in Delhi after the violence in the campus, which took place on January 5, 2020.
Deepika visited the JNU campus two days after the violence in JNU to express her solidarity with the students of Jawaharlal Nehru University (JNU), some of whom were attacked with sticks and iron rods by a mob of around 50 masked people who entered the campus on Sunday.
While answering to some questions at Conclave in Chennai, Smriti Irani said that "I would like to know about her political affiliations. Anybody who is affiliated to the news knew where you (Deepika) are going to stand; everyone knew that you are going to stand with those who wanted the destruction of India; everyone knew that you are supporting those who celebrate every time when a CRPF jawan is killed."
Chhapaak Trailer Review: Deepika Padukone, Vikrant Massey all set to give you goosebumps
Meanwhile, Smriti Irani reminded that she (Deepika Padukone) had supported the Congress in 2011. Irani said, "She cleared her political affiliations in 2011 when she supported Congress. If they (people) are surprised by this, it is because they were aware of it." While taking a dig at Deepika Padukone, Irani added that "I would like to know where she stands. She has right, to stand next to those who say Bharat tere tukde honge."
Around 30 students and teachers were injured in the JNU violence on January 5. Meanwhile, no arrests have been made in the connection. However, the police stated that they have received the vital leads in the investigation and may be able to arrest some of the accused soon.
-PTC News