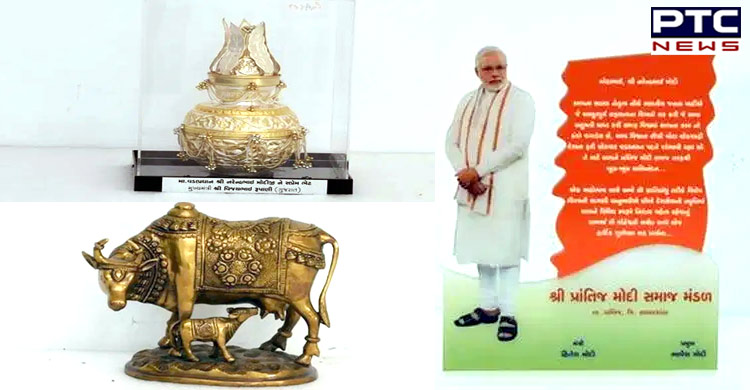 Prime Minister Narendra Modi's photo stand was sold for Rs 1 crore on Monday at the ongoing e-auction of the gifts presented to the Prime Minister during his official visit to different parts of the country in the last six months. The photo stand, which carried a message from the Prime Minister in Gujarati, had a base price of only Rs 500. A silver Kalash with a coconut on top fetched Rs 1 crore at the e-auction. It was gifted to the Prime Minister by Gujarat chief minister Vijay Rupani.
The base price for the silver Kalash was Rs 18,000. Among the gifts fetching the highest bids was a metallic sculpture of a cow feeding a calf, which was sold for Rs 51 lakh. The base price for this sculpture was Rs 1,500. The e-auction, which started on September 14, will continue till October 3 at the National Gallery of Modern Art in New Delhi. It includes several daggers, pagris, paintings, shawls and portraits of Prime Minister Narendra Modi presented to him by various artists.
Happy Birthday Narendra Modi: Lesser-known facts about the 14th Prime Minister
The total of 2,772 objects have been auctioned so far. The base price of these ranged from Rs 200 to Rs 2.5 lakh. One of the most sought after pieces was a portrait of PM Modi on silk presented to him by owner of Seematti textiles, Beena Kannan. The e-auction is being held on the portal made by National Informatics Centre and is open to all.
-PTC News