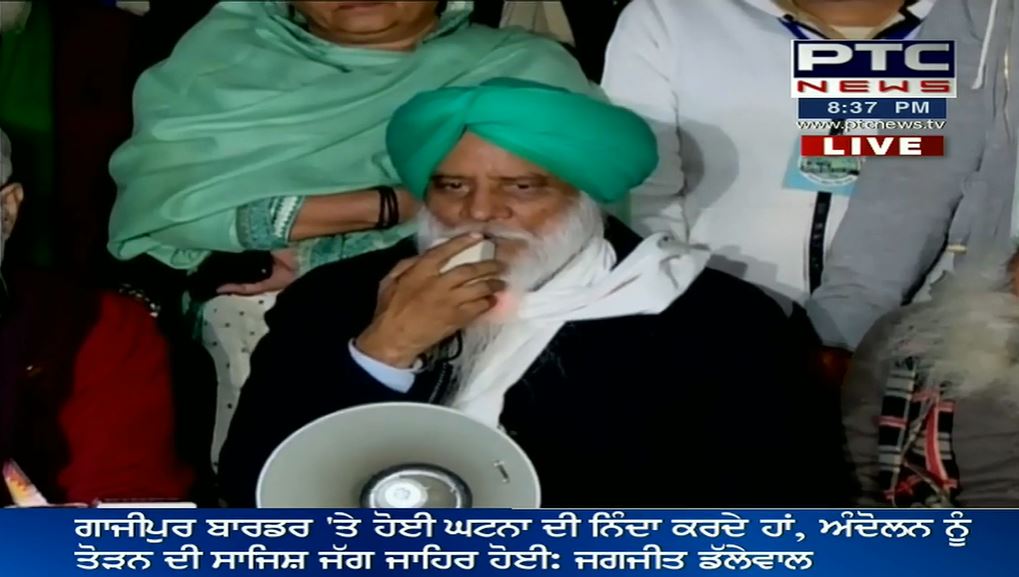 The farmers protest at Delhi borders has intensified after the violence erupted at Red Fort in Delhi.
Also Read | After stone pelting at Singhu border, tension brews at Tikri Border

The farmers held a press conference and condemned the violence and anarchy during the tractor parade. He also condemned the attitude of Delhi Police and UP Police towards the farmers' leaders and those who were supporting the farmers' struggle.
Also Read | SAD will not allow farmers' struggle to be sabotaged by govt agencies
The farmers have announced that they will celebrate 'Harmony Day' on January 30.
And there will be a 'hunger strike' on every front from 9 am to 5 pm. The farmer leaders said, 'We condemn the repression of farmers by the BJP RSS. It is not a question of caste, it is a matter of religion, it is a matter of the stomach of 80 per cent of the population. The BJP will have to give up the habit of disrupting communal harmony.'
Farmer Leader Rajewal said BJP attack on Ghazipur border and the conspiracy to break this movement has been exposed. We condemn the courage of the farmers who faced the aggressors.
Farmer Leaders said that we receive bodies of our children wrapped in tricolor every month, so how can we disgrace our country's flag.
Also Read | Rakesh Tikait: Protest will continue, Govt responsible for any mishappening
The leaders said that the BJP's attacks further strengthened the movement and the government personnel were sent to attack the Singhu border. We couldn't put our truth in front of the country, and further the internet was shut down. Police registered an FIR against 36 farmer leaders giving notice the next day. They also said that they sent out notices against us in Punjab and we condemn this heinous act, to restore internet service on all fronts.

Meanwhile, the farmers leaders said that they would go on one-day hunger strike on January 30, the day of sacrifice. He reiterated that the farmers movement was, is and will continue.
The farmers have now postponed their march to the Parliament House on February 1 following Tuesday's incident. But they said that the agitation will continue.
-PTC News