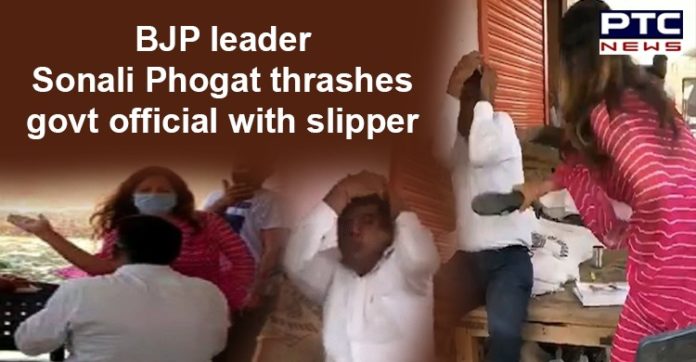 Haryana: TikTok star-turned BJP leader Sonali Phogat thrashed Hisar Market Committee secretary Sultan Singh with footwear in public place. Sonali Phogat has accused him of using derogatory language against her. The incident was captured in a video that went viral on social media in no time.

The BJP leader also forced him to write an apology letter in the market premises. In the video, Phogat can be seen thrashing Singh with her footwear. The incident took place while she visited to the Balsamand Mandi, 25 km from the district headquarter. In a video, there were few police personnel who acted as mute spectators.

"You have no right to live," Sonali Phogat was heard as saying in the video. Sonali can also be heard as speaking about the respect for women. Soon after she thrashed him, Sonali Phogat was heard asking police to register a complaint against Sultan.
In an apology letter to Phogat, Singh wrote, that due to some personal reason, he had used some derogatory language against her and also misbehaved with her. "I apologise to her for the same," he added in a letter.
और ये है भाजपा नेत्री सोनाली फौगाट का पक्ष…सोनाली के मुताबिक सचिव ने उनके साथ अभद्र भाषा का इस्तेमाल किया जिससे उनके सम्मान को ठेस पहुंची…

PTC News – Haryana यांनी वर पोस्ट केले शुक्रवार, ५ जून, २०२०
Also read | India is now 6th worst-hit nation by coronavirus pandemic; tally crosses 2.36 lakh
While speaking about the incident, Sonali Phogat claimed that she was discussing about the problems faced by the farmers upon visiting the area. She also said that she has no regrets for what she did.
-PTC News