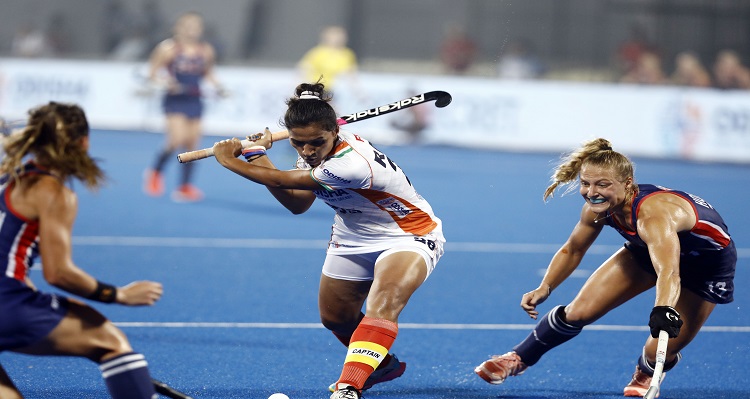 The skipper of Indian women's hockey team, Rani Rampal, did it again. Incidentally it was her goal against Japan in the crucial game that put India in run for the 2016 Olympic Games. And now again, she scored a precious goal in the 48th minute not only to reduce the margin to 1-4 but also ensure her team's passage to second successive Olympic Games.
India secured an Olympic berth for 2016 Rio Games as the team that ranked highest at the Hockey World League Semi-Finals not already qualified... India had beaten Japan 1-0 on July 4, 2015, at World Hockey League semifinals in Antwerp (Rani Rampal, 13th minute with a rising shot, almost the same way she did against the USA in Bhubaneshwar on November 2, 2019.).
Top three teams each from the World League Semifinals were automatic qualifiers. India had finished fifth at Antwerp.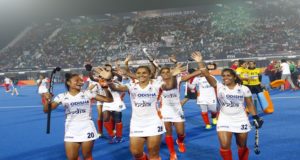 India's 2016 qualification came after England beat Spain in the semi-finals of European Cup for women  which ensured that the only teams who could   win the event had already qualified for Rio through the Hockey World League Semi-Finals – Netherlands and England (as Great Britain).
In Bhubaneshwar Olympic Qualifier, Skipper Rani's 48th minute goal sealed the 2020 Tokyo Olympics berth for the Indian Women's Hockey team as it defeated USA 6-5 on aggregate after the two-legged FIH Olympic Qualifier.  The men's team too secured a berth after beating Russia 4-2 and 7-1 in the qualifying matches.
Back in her home town Shahbad Markanda, Haryana, Rani is still overwhelmed as she maintains that the win is yet to sink in. "I think we are still in that daze. It is yet to sink in that we have actually qualified," admitted Rani further adding that a win in the second match would have made this all the more special.
"Maybe we would have celebrated had we won the second match too. Though a win is a win, we didn't expect things to pan out the way it did for us in the second match," stated Rani about losing the second match 1-4 to USA but qualified on  the aggregate, thanks to its high-scoring 5-1 victory from the first match.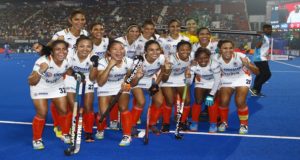 Recalling the moments from the crucial second match, Rani said, it was the conversation Chief Coach Sjoerd Marijne had with the team during the 10-minute half-time break that changed their fortunes. The team was trailing 0-4 at half-time and a comeback at this juncture seemed far-fetched. "Sjoerd was naturally quite upset when we went inside the changing room at half-time. His emotions were evident but all he said to us was, 'It's not over yet. All you need to do is go back and play as if the score is 0-0.' I think those words instilled confidence in us again. During the World Cup last year, we were 0-1 behind USA but we scored only in the second half to draw that match," Rani explained.
Although Rani's goal came only in the fourth quarter, the team staged a solid defence to keep USA from scoring further in the third quarter. "We showed resurgence in third quarter and all of us played with that never-say-die attitude but it was not enough. A goal was still eluding us with USA giving us no room in the striking circle. When I saw the screen with time ticking away fast, just 30 seconds remaining for the third quarter to end, I did wonder if we can still make it."
"But when we regrouped before the fourth quarter, everyone was pumped up and we knew we only needed an opening in the circle and one of us would surely score. We had worked so hard for more than an entire year, we had gone through such scenarios in training and we were not going to give up easily," added the Captain.
Also Read | WATCH: MS Dhoni gets shoulder massage from daughter Ziva Dhoni
Rani's goal has ensured the team will play in two back-to-back Olympics after qualifying for Rio 2016 for the first time since 1980. The Indian Team will now get a two-week break before they return for National Coaching Camp in SAI, Bengaluru. "We have crossed the first hurdle which was to qualify. Now we will regroup, review, analyze and there is ample time for us to prepare for the 2020 Tokyo Olympics and our goal is to win a medal," concluded confident Rani.
Rani's coach, Baldev Singh, a Dronacharya award winner and now retired, says that Indian girls are capable of doing much better. He congratulated Indian teams, both men and women, for booking their 2020 Tokyo Olympic Games berths.
Some of the Indian girls have more potential, says Baldev Singh, maintaining "there cannot be a better time than Olympic Games to make girls play to their potential and get good results for the country. Rani and Navneet can be a lethal duo in forward line."
-PTC News