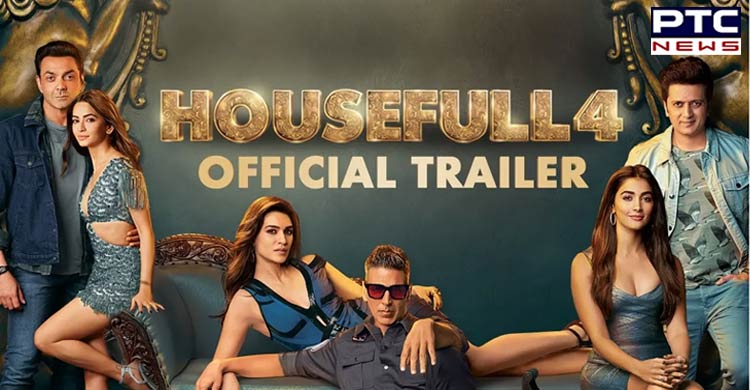 The much-awaited trailer of Housefull 4, featuring Akshay Kumar, Riteish Deshmukh, Bobby Deol, Kriti Sanon, Kriti Kharbanda and Pooja Hegde is finally out. The film revolves around two eras, 1419 and 2019. Akshay Kumar plays Bala and Harry, while Riteish Deshmukh plays the role of Bangdu Maharaj and Bobby.
https://youtu.be/gcHH34cEl3Y
Bobby Deol plays Dharamputra & Max, Kriti Sanon is seen as Rajkumari Madhu and Kriti, Pooja Hegde as Rajkumari Mala and Pooja, while Kriti Kharbanda is seen as Rajkumari Meena and Neha.
Six lovers are parted because of an evil conspiracy in 1419 and they cross paths again in 2019. However, the men fall for the wrong women and are about to marry their sisters-in-law. Providentially, the three couples land up in Sitamgarh where it all began.
Also, Read #MeToo: Sajid Khan steps down from 'Housefull 4'; actress thanks Akshay Kumar, Twinkle
Will they remember their past lives on time or will they be stuck with the wrong lovers forever? Housefull 4 will confuse you, put you on a laugh riot and take you through the grandeur of 1419 with a spark of 2019. Directed by Farhad Samji and produced by Sajid Nadiadwala, the film will be released on October 25, 2019.
-PTC News