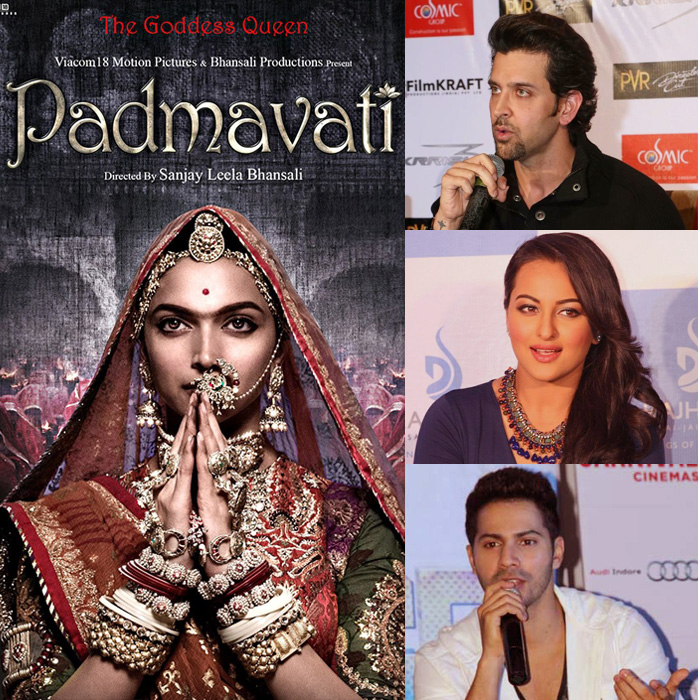 Mumbai, Dec 3- Bollywood stars Hrithik Roshan, Varun Dhawan and Sonakshi Sinha have said death threats being issued to fellow actor Deepika Padukone and "Padmavati" director Sanjay Leela Bhansali is not "right".
The actors, who were speaking on the sidelines of an award event over the weekend, called for strict actions against the people calling for such violent threats.
"It is a clear indication of our level of evolution. We are still evolving as a society and as individuals. It is a reflection of the fact that we still have a long way to go to evolve into beings, that bereft of these problems and issues of assumptions and attacks. It is not right," Hrithik said, who has worked with Bhansali in "Guzaarish".
While Varun said India is a democracy and every one has the right to protest, but things should not turn violent.
"Protesting peacefully is fine. It is a democracy and everyone should be allowed to voice their opinion and we should totally respect that.
"But making a (death) threat should not be allowed in a democracy. And I believe in our judiciary, I am sure they will manage it," he said.
Sonakshi said the kind of protest film and the cast members are facing is not "correct".
"... Whatever is happening is not right and it shouldn't happen. In our country, if threats are given openly, it is not a correct thing. I think strict action should be taken against it."
"Padmavati" got caught in a controversy after several Rajput groups alleged that history has been "distorted" in the movie.
Bhansali has been accused of filming a romantic dream sequence between Rajput queen Padmini (Deepika) and Sultan Alauddin Khilji (Ranveer Singh), a claim repeatedly denied by the filmmaker.
The movie was earlier scheduled to be released on December 1.
The makers deferred the release till they receive a certificate from the CBFC.
Chief ministers of BJP-ruled states such as Rajasthan, Madhya Pradesh, Uttar Pradesh and Gujarat have also called for a ban on the period drama.