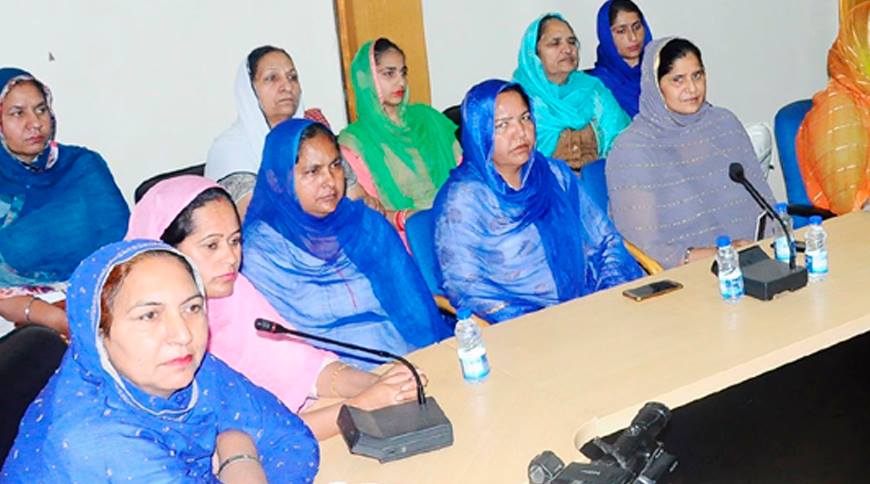 Istri Akali Dal wing officer bearers today took a solemn pledge not to take dowry or give any during a State level meeting held here and resolved to widen the fight against this social menace by encouraging women to take similar vows at its State level conference on March eight.
Disclosing this after a meeting of the wing following a seminar on women empowerment held at the party office here, its president Bibi Jagir Kaur said Istri wing officer bearers said there was an urgent need to fight the menace of dowry and that they themselves should lead by example. "I am beholden to my colleagues who have decided not to give or take any dowry. Now these office bearers will lead this movement in the State and encourage women to end this malaise"
Bibi Jagir Kaur said the Istri wing was holding a State level conference at Damdama Sahib on international women's day on which occasion it would also spread awareness about domestic violence and the need to tackle it at the community level.
The Istri wing president included this as an agenda for the party's conference after a suggestion by noted women activist Dr Pam Rajput who said the wing should identify cases of domestic violence and try to resolve them through counseling. Dr Rajput said "governments can't end domestic violence. We have to be part of the change. We must fulfil our responsibility towards society by taking up such cases voluntarily", she added.
On a suggestion by Dr Rajput, the Istri Akali Dal president also accepted a proposal to conduct village level society mapping. This involves fanning out in the villages and finding out the problems of women be it young, old or widows and then coming out with tailor made solutions.
Woman activist Dr Shruti Shukla while speaking on the occasion stressed on inculcating the right moral values in the youth. "We must collectively learn how to be good mothers, sisters and wives. They only can we enrich society with our experience", she added. Poetess Dr Gurminder Kaur Sidhu explained how women were making a difference across the world. She made out a case against female foeticide besides other social ills.
Bibi Jagir Kaur announced that the Istri wing had created five zones in the State and an eleven member committee was being formed for each zone which would work for spreading religious and spiritual education to people of all walks of life. "We will coordinate with all communities for this purpose as our basic purpose is to instill the right values in our coming generations", she added.
-PTC News