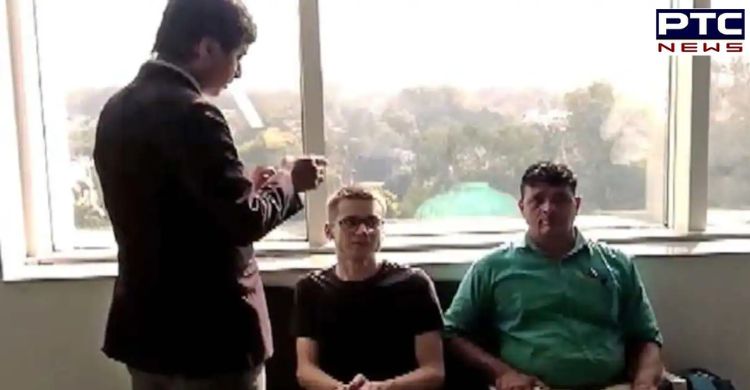 New Delhi, October 6: The Rouse Avenue Court in Delhi on Thursday extended the Central Bureau of Investigation's (CBI) custody of a Russian national in the JEE Main-2021 scam case till October 9.

Based on the Look Out Circular (LOC) issued by the CBI in the Software tempering case of JEE Mains-2021, the Russian national was arrested on Monday upon his arrival from Kazakhstan.
Anjani Mahajan, the Chief Metropolitan Magistrate (CMM), decided to extend the remand time by three days. The court stated that, in light of the Investigation Officer's (IO) submissions that the accused is required to be confronted with the data extracted from his phone, laptop, and external HDD, a further three days PC remand of the accused is granted to the IO for the purpose of expediting the investigation.
While seeking remand, the CBI argued that the data retrieved from the accused's devices is too large and is being analysed, and the accused must be confronted with the data extracted from his phone, laptop, and external HDD.
Advocates Sharavanth Shankar and Rohit Bhardwaj appeared for the Russian National, who challenged the CBI's remand application for extended remand, claiming that the accused had cooperated in the investigation and that the accused had previously been given PC remand for two days. It is asserted that the accused does not require further PC remand.
Also Read | Merced California kidnapping case update: Bodies of all 4 Punjabi family members recovered
The CBI apprehended a foreign national and the mastermind of the Joint Entrance Examination (JEE) Main 2021 paper leak case on Monday. According to the central agency, he was the main hacker in the case.
"He was the mastermind in the case who has hacked the software of examination. We are questioning him to ascertain the role of the other people involved in the case and identifying the people who were giving instructions to him," a senior CBI official stated.
According to the CBI, it was discovered during the investigation that some foreign nationals were involved in compromising numerous online examinations, including JEE (Mains), in collaboration with other accused in the latest case.
The role of one Russian national who reportedly tampered with the iLeon software (the platform on which the JEE(Main)-2021 examination was held) and assisted other accused in hacking suspect candidates' computer systems during the examination was uncovered. As a result, a Look Out Circular was issued against the aforementioned Russian National.
Also Read | Army's Cheetah helicopter crashes in Arunachal's Tawang, pilot dead
-PTC News