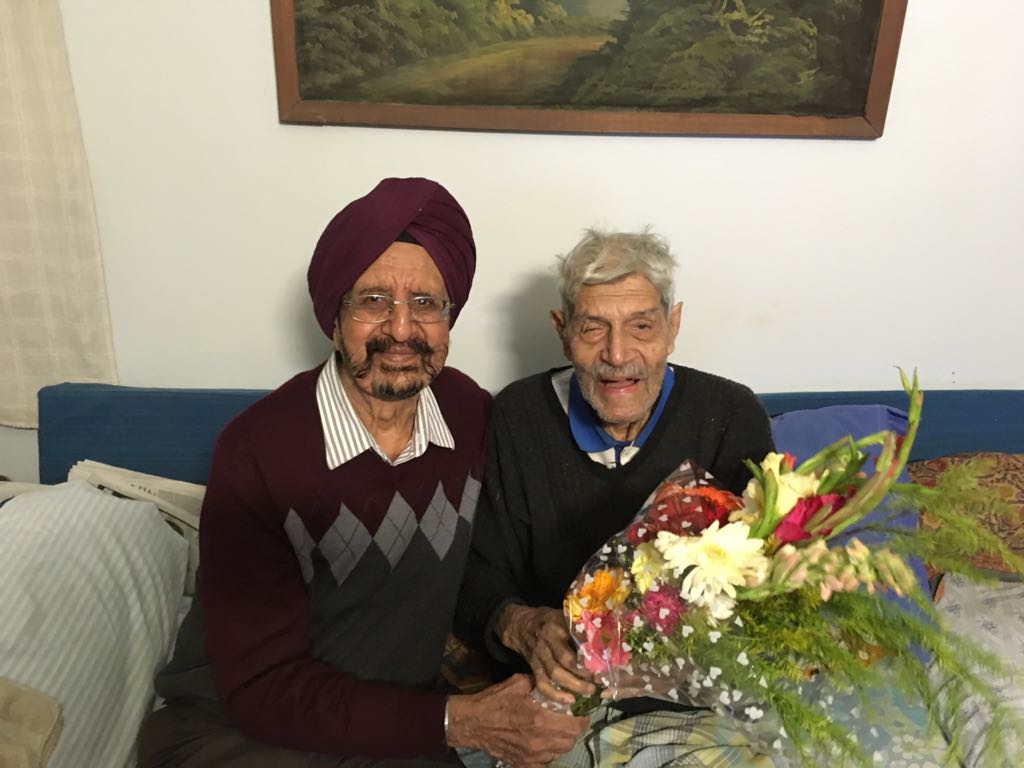 Keshav Dutt Veteran hockey Olympian celebrates his 93rd birthday with Gurbax Singh: Kesho to his friends and admirers, Keshav Dutt, one of finest centre halfbacks the country produced in pre-partition days, celebrated his 93rd birthday at his Kolkata residence on December 29.
He is perhaps one of the oldest surviving hockey Olympian in the country today. Balbir Singh Senior has been a contemporary of Keshav Dutt.
Keshav Dutt, a product of Government College, Lahore, had the rare distinction of playing for Punjab, Bombay and Bengal in National Hockey Championship. He was chosen to don national colours in the 1948 London Olympics where India won its first gold medal after Independence.He played in 1952 Olympics also and may have played in 1956 also.
Keshav Dutt had settled down in Kolkata after retiring from service and hockey. In 1972 he accompanied Indian team to Munich Olympic games as its Manager.
Gurbax Singh, who played for India in 1964 and 1968 Olympic games, visited Keshav Dutt to greet him on his 93rd birthday and presented him a copy of his biography "My Golden Days". The book has just been released.
Gurbax Singh also represented Bengal as a fullback and was joint captain of Indian hockey team in the 1968 Mexico Olympic games.
Hockey Olympians from all over the world, including Avtar Singh Sohal (Kenya), Malkit Singh (Uganda), Harcharan Singh, Harbinder Singh, Balbir Singh Senior, Pargat Singh, Hardeep Singh Grewal and Balbir Singh Services (India) besides Olympian coaches SS Grewal, and Gurdial Singh Bhangu.
-PTC News