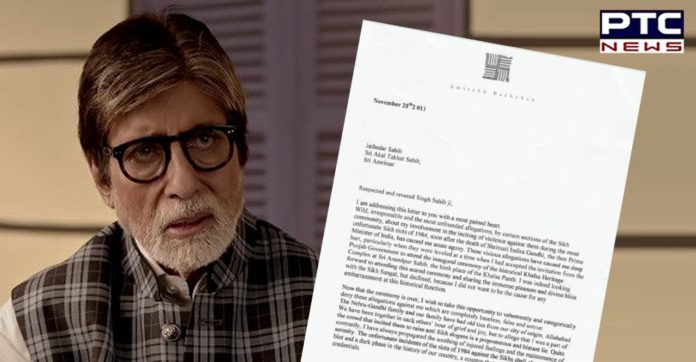 A letter was sent by the megastar Amitabh Bachchan to Sri Akal Takht Sahib in 2011 which has now come to light in which he gave his explanation on the accusation made against him for inciting the mob for 1984 Sikh riots.

Amitabh Bachchan wrote in a heartfelt letter to his friend Gurinder Singh Bawa, a Mumbai resident Shiromani Committee member, that irresponsible allegations were being leveled against him for his involvement in inciting violence during the 1984 Sikh riots.
Also Read | Sun Foundation to offer free oxygen concentrators for COVID patients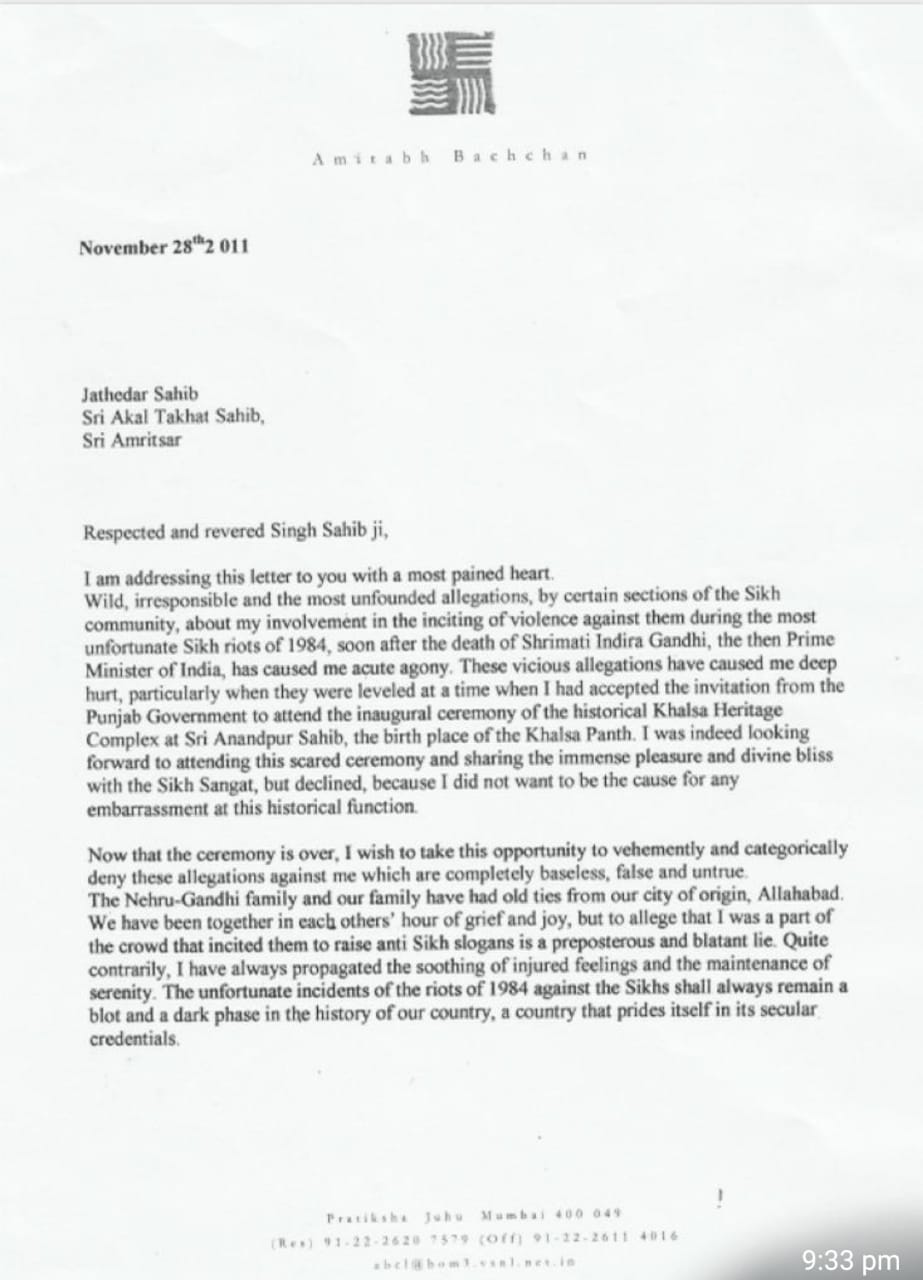 "Wild, irresponsible and the most unfounded allegations, by certain sections of the Sikh community, about my involvement in the inciting of violence against them during the most unfortunate Sikh riots of 1984, soon after the death of Indira Gandhi, the then Prime Minister of India, has caused me acute agony," he had written.
He further wrote: "These vicious allegations have caused me deep hurt, particularly when they were leveled at a time when I had accepted the invitation from the Punjab Government to attend the inaugural ceremony of the historical Khalsa Heritage Complex at Sri Anandpur Sahib, the birthplace of the Khalsa Panth."
Also Read | Coronavirus in India: PM Narendra Modi a 'super-spreader' of COVID-19, says IMA Vice President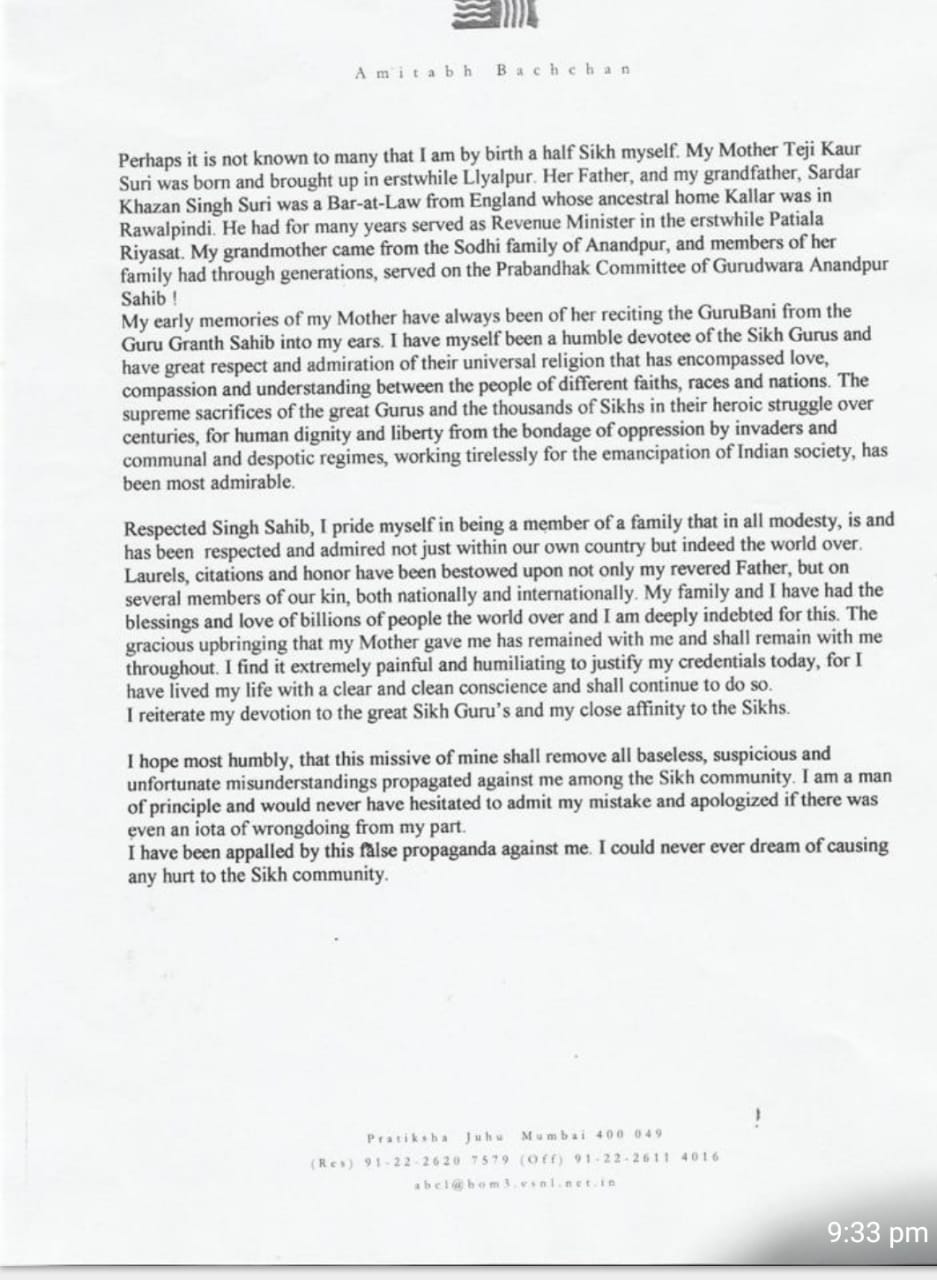 "I wish to take this opportunity to vehemently and categorically deny these allegations against me which are completely baseless, false, and untrue," Amitabh Bachchan stated.
"The Nehru-Gandhi family and our family have had old ties from our city of origin, Allahabad (now Prayagraj). We have been together in each others' hour of grief and joy, but to allege that I was a part of the crowd that incited them to raise anti-Sikh slogans is a preposterous and blatant lie," he had said.
"The unfortunate incidents of the riots of 1984 against the Sikhs shall always remain a blot and a dark phase in the history of our country, a country that prides itself in its secular credentials," he had written further.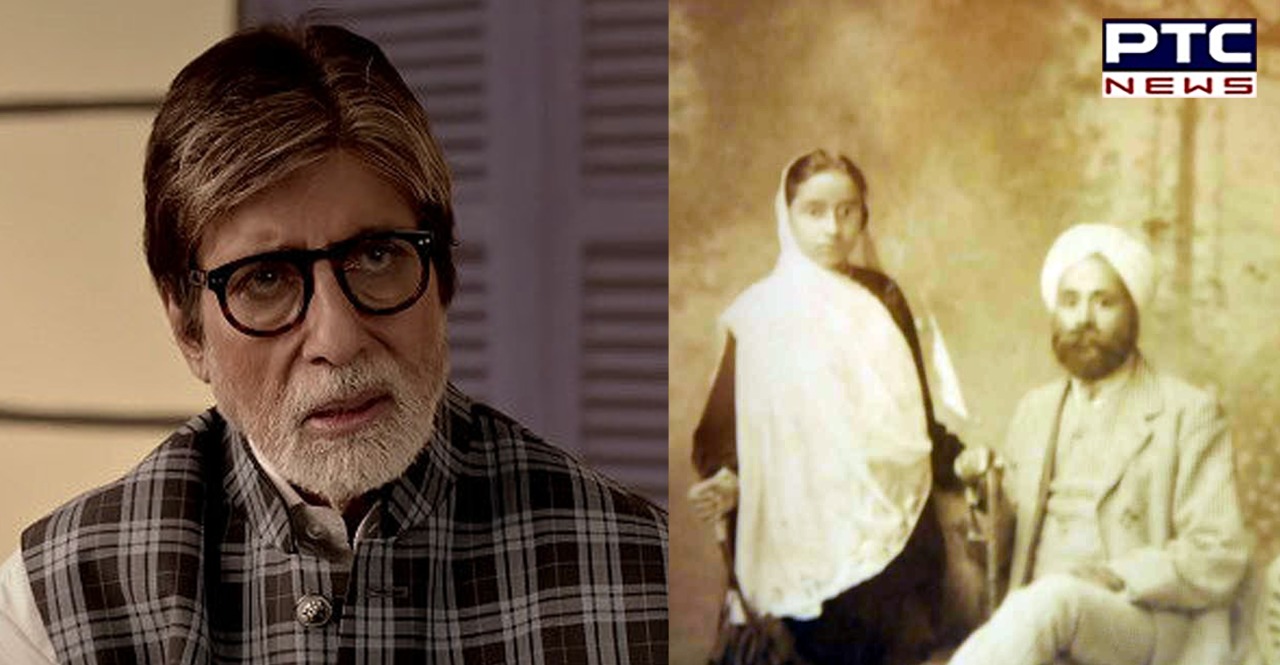 Furthermore, Amitabh Bachchan had written: "Perhaps it is not known to many that I am by birth a half Sikh myself. My mother Teji Kaur Suri was born and brought up in erstwhile Liyalpur. Her father, and my grandfather, Sardar Khazan Singh Suri was a Bar-at-Law from England whose ancestral home Kallar was in Rawalpindi. He had for many years served as Revenue Minister in the erstwhile Patiala Riyasat. My grandmother came from the Sodhi family of Anandpur, and members of her family had through generations, served on the Parbandhak Committee of Gurdwara Anandpur Sahib."
"Respected Singh Sahib, I pride myself in being a member of a family that in all modesty, is and has been respected and admired not just within our own country but indeed the world over," he added.
"I reiterate my devotion to the great Sikh Gurus and my close affinity to the Sikhs. I hope most humbly, that this missive of mine shall remove all baseless, suspicious, and unfortunate misunderstandings propagated against me among the Sikh community. I have been appalled by this false propaganda against me. I could have never dream of causing any hurt to the Sikh community," he concluded.
Click here to follow PTC News on Twitter
-PTC News