Chandigarh, February 23: On Thursday, Haryana Chief Minister Manohar Lal Khattar presented the budget for 2023-24 where no fresh tax, and it also decided to hike the social security pension to Rs 2,350 per month. It later also announce d financial support for women entrepreneurs.

Chief Minister Manohar Lal Khattar also holds the finance portfolio and announced a Rs 1,83,950 crore budget for the year 2023-24, an increase of 11.6 per cent over the revised estimate of Rs 1,64,808 crore. The budget has also made the decision to extend the benefit of Chirayu-Ayushman Bharat scheme to the families whose annual income, as per the data verified by Parivar Pehchan Patra (family ID), is above Rs 1.80 lakh and up to Rs 3 lakh.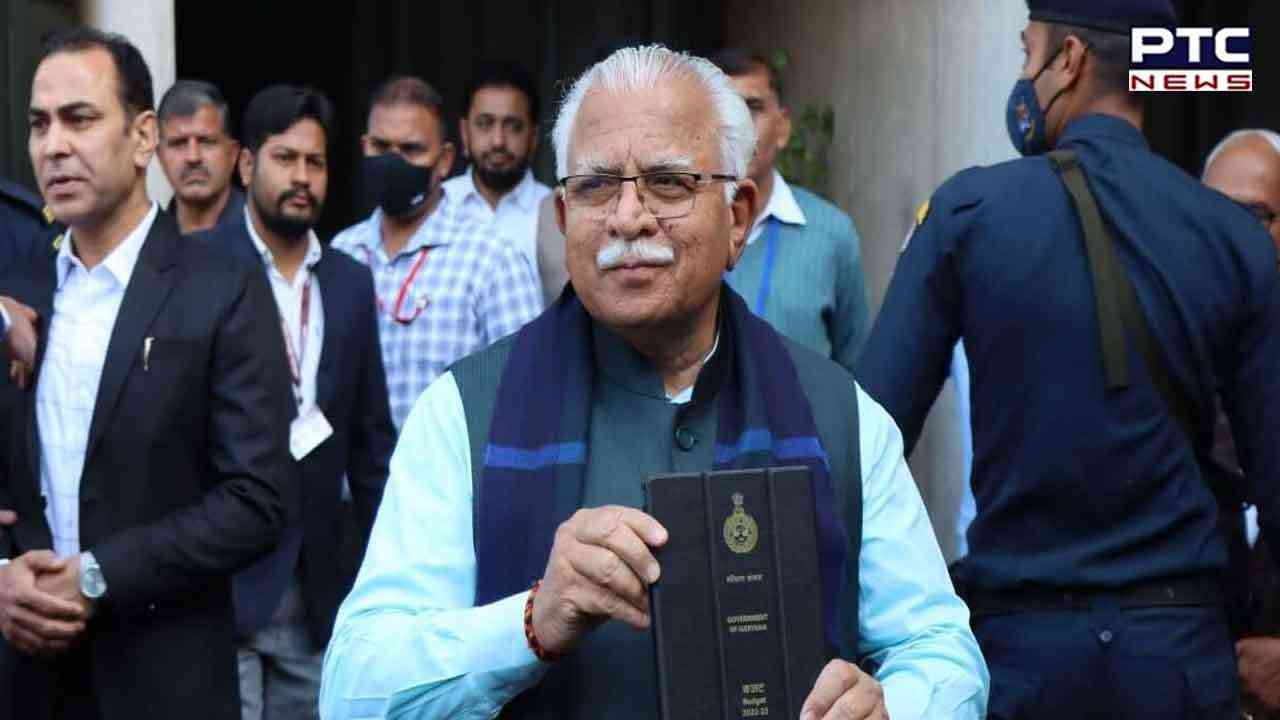 Also Read: Rajasthan Feeder will remain closed for relining work from March 20
Later, CM Khattar was also said regarding Chirayu-Ayushman Bharat scheme where they will be asked to contribute an amount of Rs 1,500 per family per annum covering 50 pc of the subscription amount for receiving medical treatment cover of Rs 5 lakh in any empanelled hospital.
"I am also happy to state that I do not propose any new tax in the budget for FY 2023-24. I hope to mobilise additional resources through better administration of sources of revenue and improved financial management of state public sector enterprises," he said.
The budget was presented by Khattar, established a venture capital fund in association with banks and financial institutions. The fund will provide financial support through loans and equity to startup entrepreneurs who are women or come from families with an annual income of up to Rs 1.80 lakh or belong to the Scheduled Castes or Backward Classes.
"The venture capital fund will assist the youth in becoming entrepreneurs where the project cost is upto Rs 5 crore. The fund will have a corpus of Rs 200 crore," the chief minister said.
Later, CM Khattar also presented social security pension benefits including Old Age Samman allowance, widow pension and Divyang pension are provided to over 29.71 lakh beneficiaries at the rate of Rs 2,500 per month. The amount was announced which will be increased to Rs 2,750 per month to all the beneficiaries with effect from April 1, 2023.
On the Sutlej Yamuna Link canal, Khattar said his government is committed to the construction of the SYL canal in order to get its due share of waters of Ravi-Beas river system.
"An outlay of Rs 101 crore is proposed to be allocated especially for this purpose in 2023-24. If additional demand arises, the government will provide the same with the approval of the State Assembly," he said in the House.
About paddy crop residue burning cases, Khattar said there was a 48 per cent drop in paddy stubble incidents in Haryana and it was appreciated at the national level.
"The government will notify a government determined rate of Rs 1,000 per tonne as an incentive to purchase of 'parali' (stubble) from farmers and Rs 1,500 per tonne for meeting all expenses related to stubble management for paddy straw procured in the prescribed service areas by designated agencies," he said.
- With inputs from agencies