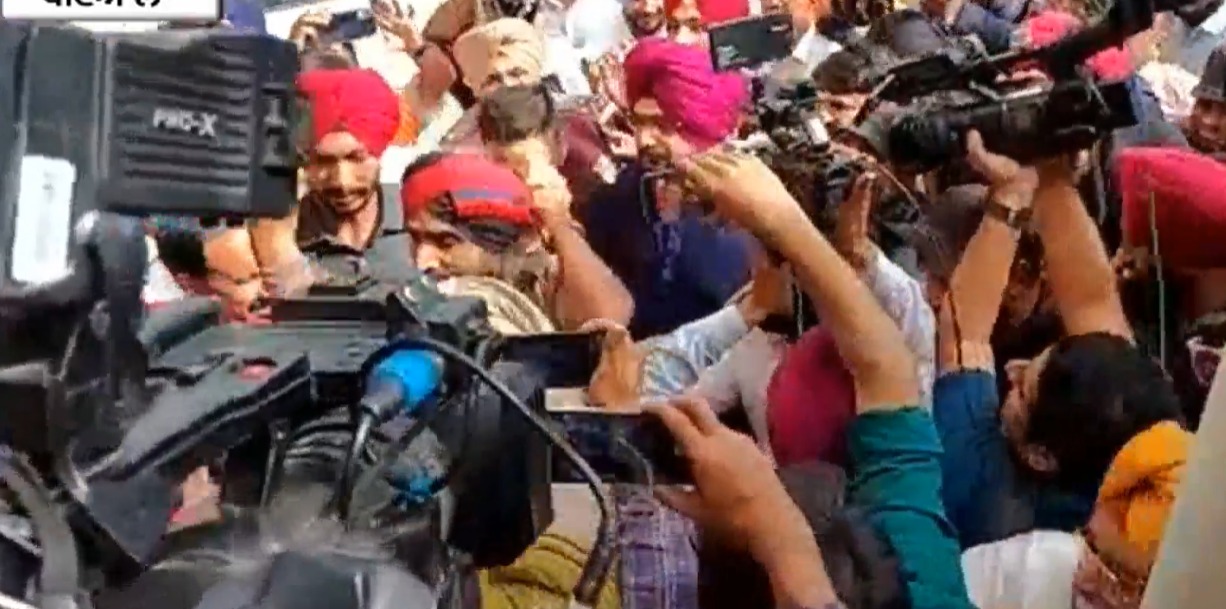 Patiala: After a day-long drama, Punjab Congress leader Navjot Singh Sidhu surrendered at the Patiala Court on Friday evening. After a medical examination at  Mata Kaushalya Hospital, he was taken to the Patiala Central jail.
Lawyer Abhishek Manu Singhvi, who appeared for Navjot Sidhu in the Supreme Court, was told by Justice AM Khanwilkar to approach the Chief Justice of India NV Ramana. But the "matter could not be mentioned before the Chief Justice", said Sidhu's team.Sidhu had on Thursday tweeted after the order that he would "submit to the majesty of law".
Former Punjab Congress chief Navjot Singh Sidhu surrendered before a local court in Patiala on Friday in a 1988 road rage case, in which the Supreme Court imposed a one-year jail term on him.

Pronouncing the verdict on Thursday, the Supreme Court said any undue sympathy to impose an inadequate sentence would do more harm to the justice system and undermine the public confidence in the efficacy of law.
The apex court enhanced the sentence of Sidhu to one-year rigorous imprisonment in the road rage incident in which a 65-year-old man had died.
Navjot Singh Sidhu Highlights: 
10.50 am: Senior advocate Abhishek Manu Singhvi seeks a hearing today. SC asks Singhvi to make a request before the CJI for setting up the special bench to hear it today.
Senior Advocate Abhishek Manu Singhvi mentions Navjot Singh Sidhu's case. The judgment in review petition was delivered yesterday.
'He will surrender. But he wants a few weeks to settle up his medical health issues. Give some time please.' states Singhvi before HC
Replying to which the apex Court has asked them to place a formal application. which they will review later. ' File this and mention it before the Chief Justice's court, then we will see.'
9.58 am:

Congress leaders Hardial Kamboj, Pirmal Khalsa, Jagdev Kamalu, Navtej Cheema and Kaka Rajinder Singh Sidhu arrive Sidhu's residence.
9.56 am: Sidhu to surrender today at 12 noon
9.50 am

: Navjot Sidhu's curative petition will not be heard today. Only petitions will be filed today.
9.17am: Navjot Singh Sidhu's staff arrives at his residence.
9.17 am: Congress leader Surjit Dhiman arrives.
9.15 am: Navjot Singh Sidhu's lawyer HS Verma reaches Patiala.
9.14 am: Strict security arrangements were made by the police in Patiala court in view of the Navjot Sidhu's surrender .
9.13 am: Navjot Sidhu's eyes fixed on curative petition.