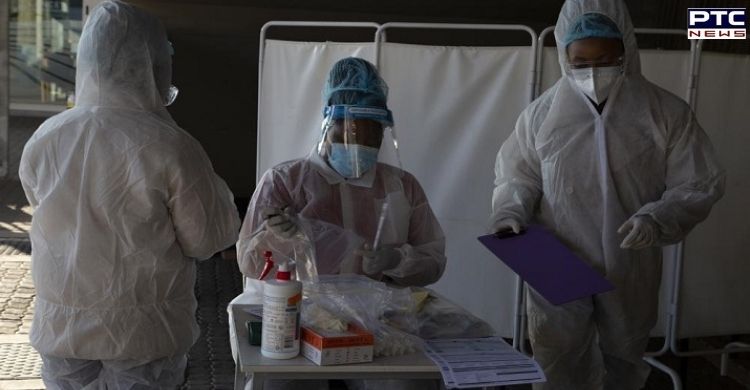 Scientists in South Africa on Thursday said they had detected a new Covid-19 variant, B.1.1.529, with multiple mutations. The National Institute for Communicable Diseases has confirmed 22 positive cases of the new variant in the country.

Confirming this, virologist Tulio de Oliveira said unfortunately, they had detected a new variant of Covid-19, which had become a cause for concern in South Africa.
Also read | NEET-PG admissions: Centre to revisit Rs 8 lakh annual income limit for EWS; counselling further put off
Botswana and Hong Kong have also reported cases of this variant among travellers from South Africa.
South Africa Health Minister Joe Phaahla said the variant was of "serious concern" and behind an "exponential" increase in reported cases, making it "a major threat".
The National Institute for Communicable Diseases (NICD), in a statement, said detected cases and the percentage testing positive were "increasing quickly" in three of the country's provinces, including Gauteng, which included Johannesburg and Pretoria.
Earlier today, World Health Organisation (WHO) officials met to discuss the emergence of a new variant – B.1.1529 – circulating in South Africa and neighbouring Botswana.
Also read | Air pollution: SC re-imposes ban on construction activities in Delhi-NCR
Experts claim the new variant from South Africa could be worse than the Delta variant, which was the cause behind the horrific second wave of pandemic in India.
The findings come at a time when several European countries are battling a surge in Covid-19 cases. Currently, South Africa is on the lowest level of lockdown measures, though strict measures are likely to be imposed in the coming days.
Meanwhile, In India, Union Health Secretary Rajesh Bhushan has written to Additional Chief Secretary/Principal Secretary/Secretary(Health) of all states/UTs that "multiple cases of a Covid-19 variant B.1.1.529 have been reported in Botswana (3), South Africa (6 ) and Honk Kong (1 )."
"Imperative that all international travellers from and transiting through these nations and other 'at-risk' nations indicated in revised guidelines for international arrivals are subjected to rigorous screening & testing. Their contacts must also be traced and tested," reads the letter.
-PTC News with agency inputs