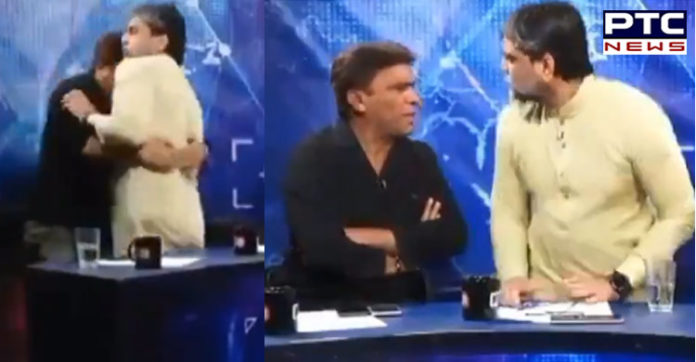 A Pakistani live debate show, "News Line with Aftab Mugheri" turned into a street fight when one of the panelists attacked another over a heated argument. All this happened on a live news show. One of the two fightings, was Masroor Ali Siyal, a leader from Pakistan Prime Minister Imran Khan's Pakistan Tehreek-e-Insaf (PTI), while the journalist was Karachi Press Club President Imtiaz Khan.
Is this Naya Pakistan? PTI's Masroor Ali Siyal attacks president Karachi press club Imtiaz Khan on live news show. pic.twitter.com/J0wPOlqJTt

— Naila Inayat नायला इनायत (@nailainayat) June 24, 2019
In the video, Siyal can be heard warning Imran Khan that he won't tolerate such things, to which Khan uproars saying," Mai Bhi Nahi Karta"(neither does he). After which Siyal got up from his seat pushed Khan, throwing him off the chair. Both can be heard abusing each other on a LIVE TV debate.
Yes, of course it is Naya Pakistan

— Javaid Shami (@jrshami) June 24, 2019
Insaallah aap aise he Entertain Karti rahiye ?

— Säčħĭŋ Pandit (@sachin06) June 24, 2019
Thappad se darr nahiin lagta saahab. Tamatar se lagta hai lol

— DDeeppaakk ?? (@JerryMaguire911) June 24, 2019
Yez this is Naya Pakistan with zero tolerance

— Sahira Yousafzai (@Sahira_Zaman) June 24, 2019
It's not Naya Pakistan, it's Purana Pakistan, it's their daily affairs.

Look the way they sat back again, as if nothing had happened ?

— Suresh Sharma (@sooreshsharma) June 25, 2019
When others intervened to stop the fight, Masoor Ali Siyal took back his chair to sit whereas Imtiaz Khan walked out of the studio. A few minutes later, the Karachi Press Club president came back in the studio and took his seat. He was also heard warning the PTI leader of suing him to the court over the incident.
Also, read- https://www.ptcnews.tv/jk-studio-legend-dies-due-to-cardiac-arrest-during-live-show/
Naila Inayat, Pakistani journo took over her twitter handle to share the video and said," Is this Naya Pakistan? PTI's Masroor Ali Siyal attacks President Karachi Press Club Imtiaz Khan on the live news show".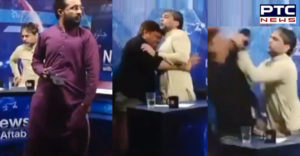 Likewise, there are various others who trolled the incident on social media. Likewise, there have been several other incidents when such cases have happened and Pakistan news channels were trolled by the Troll Army sitting on social media.
-PTC NEWS