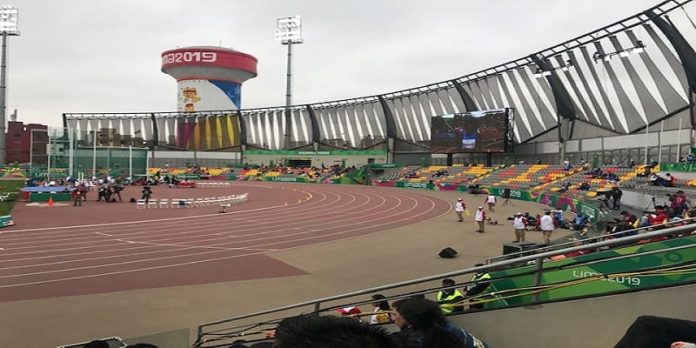 Pan Am Games Lima 2019: Michael Rogers of US and Elaine Thompson are fasted male and female athletes
On a day when the synthetic track at Videna Athletic Stadium was virtually set on fire, Michael Rogers of the United States and Elaine Thompson of Jamaica were crowned the fastest male and fastest female athletes, respectively, of the Americas. Their achievement was all the more credible as they won the coveted gold medals in their events in the presence of legendary athlete Carl Lewis. Carl Lewis even presented medals to winners of men's 100 metres.
While the fight for number two position in medals tally continues unabated, Canada suffered a reverse as it was pushed to number four position even after touching the 100-mark in overall aggregate. Canada remained medal less in athletics today and hopes to win a double in Decathlon when the event resumes tomorrow,
In 100 m for men, Michael Rogers clocked 10.06 seconds and was just ahead of Camillo de Andre of Brazil who clocked 10.11 seconds. In the women's sprint, Elaine Thompson clocked 11.13 seconds and finished ahead of Blanco Albanza of Cuba.
In 800 metres for women. Natoya Goule Viola of Jamaica was the winner.Gold medal in men's long jump went to Lafle Echewarria with a leap of 8.27 m and Tajay Gayle of Jamaica took the silver with 8.17 m.In shot put for men, Darlan Ramani of Brazil heaved the brass ball to a distance of 22.07 m to get the gold.
At the end of events at 6 pm, USA was at the top of the medals tally with 168 medals, including 67 golds while Brazil moved to number two spot with 94 medals, including 28 gold. Mexico occupied the third spot with 26 gold medals with an aggregate of 87 while Canada after taking its gold tally to 24 and total to 100 was placed fourth.
-PTC News