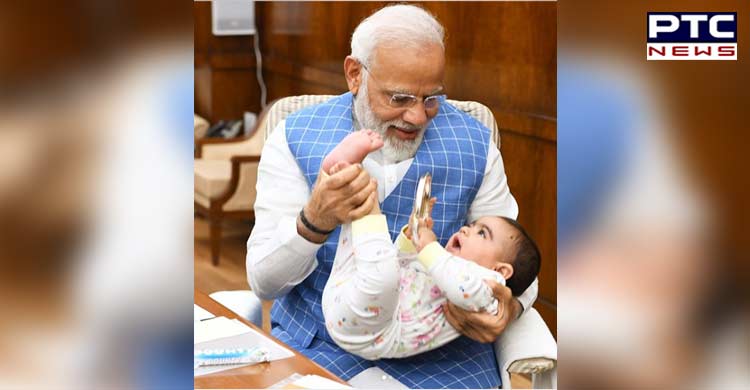 Prime Minister Narendra Modi on Tuesday shared a picture on Instagram in which he is playing with a kid in his lap, who is also settled down comfortably. The picture is from the Parliament of India, where Prime Minister is having a quality time with the toddler. "A very special friend came to meet me in Parliament today", captioned Prime Minister Narendra Modi's Instagram profile. Narendra Modi with the baby in the pictures is the adorable stuff to see on Instagram.
https://www.instagram.com/p/B0QPjPLFlUo/
PM Narendra Modi on Tuesday watched the ISRO's successful launch and shared the picture for the same. He captioned, "Special moments that will be etched in the annals of our glorious history! The launch of Chandrayaan 2 illustrates the prowess of our scientists and the determination of 130 crore Indians to scale new frontiers of science. Every Indian is immensely proud today!"
https://twitter.com/ANI/status/1153625077759524864
The child that Prime Minister Modi is seen playing with in his Instagram post is the grandson of BJP MP Satyanarayan Jatiya.
Also Read: Budget 2019: See what PM Narendra Modi said on the budget
Meanwhile, the people and the followers of PM Modi are lauding him as the picture is just one of those cherished moments. PM Modi with a baby is the adorable one on Instagram on Tuesday. While there were some of the people who are asking as if he is Taimur Ali Khan.
-PTC News