Srinagar, January 30: Congress general secretary Priyanka Gandhi Vadra, while presiding over the concluding day of the Bharat Jodo Yatra on Monday, said "this country is built with love, truth and non-violence, and the Congress will preserve this."

Priyanka Gandhi said, "My brother has been walking for four-five months. Earlier, I used to think that the journey was very long, how would it be possible, for people would welcome him with an open heart or not? But wherever Rahul Gandhi's yatra went, people welcomed him a lot with love."
Also Read | Rahul Gandhi shares why he didn't wear sweater during Bharat Jodo Yatra
"In this country, people have a passion for non-violence, for the Constitution. I thank the people of Jammu & Kashmir because the people here have supported us wholeheartedly. When Rahul Gandhi was coming to Kashmir, he sent a message to me and my mother Sonia Gandhi and said, " I am feeling very good that I am going to my home," she added.
Congress president Mallikarjun Kharge on Monday hoisted the National flag in Srinagar at the party office in Srinagar.
The Tricolour was hoisted in the presence of party MP Rahul Gandhi and Priyanka Gandhi. Today marks the culmination of the Bharat Jodo Yatra.
Srinagar had received heavy rain and snowfall on Sunday night and photographs from this morning showed the Gandhi siblings playing with snow at the Congress party headquarters.
Also Read | Gujarat court convicts self-styled godman Asaram Bapu in sexual assault case
Meanwhile, Congress leader Jairam Ramesh shared a photograph of himself with party colleague Digvijay Singh. Ramesh tweeted, "The Do Bechare... residents of Container #12 and #14 saying farewell at the end of #BharatJodoYatra in a snowy Srinagar to their abodes for the last 135 days."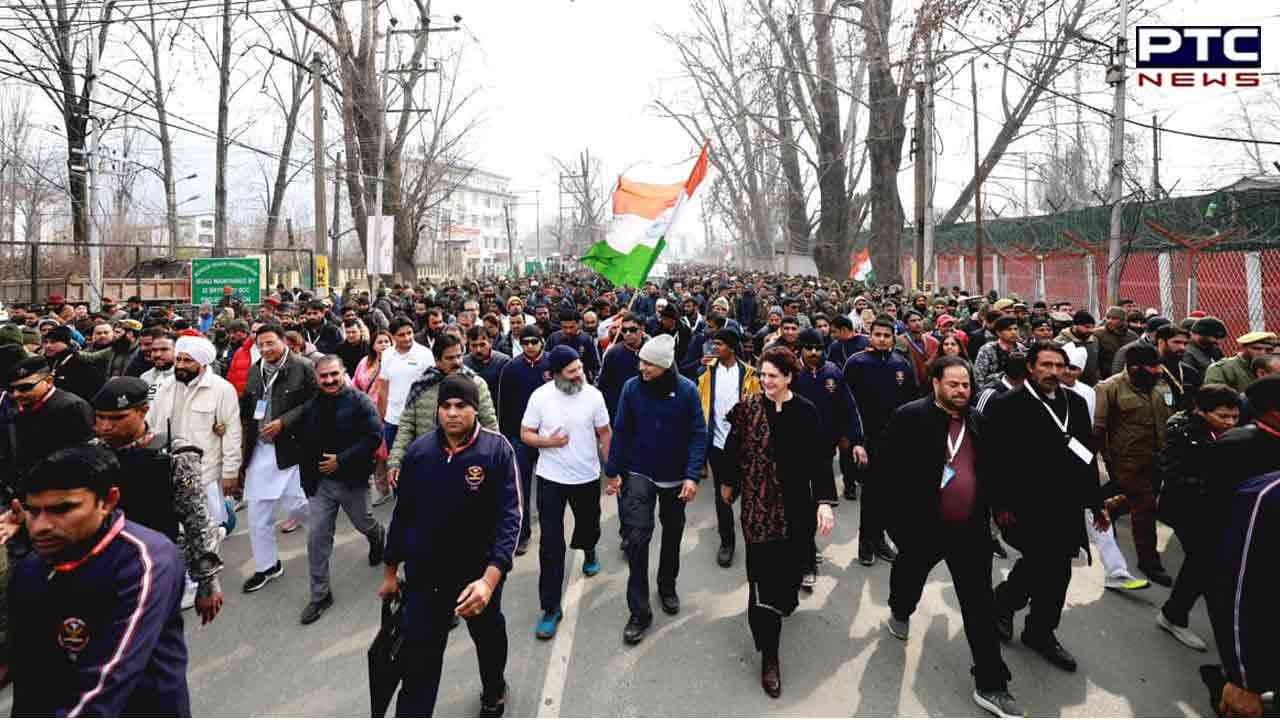 Previously, Rahul Gandhi had also unfurled the National Flag at Lal Chowk in Srinagar as the Bharat Jodo Yatra entered its last leg in the union territory on Sunday.
The Bharat Jodo Yatra, which started in Kanyakumari on September 7, concluded in Srinagar on Monday after covering 3,970 km, 12 states, and two UTs.
- ANI