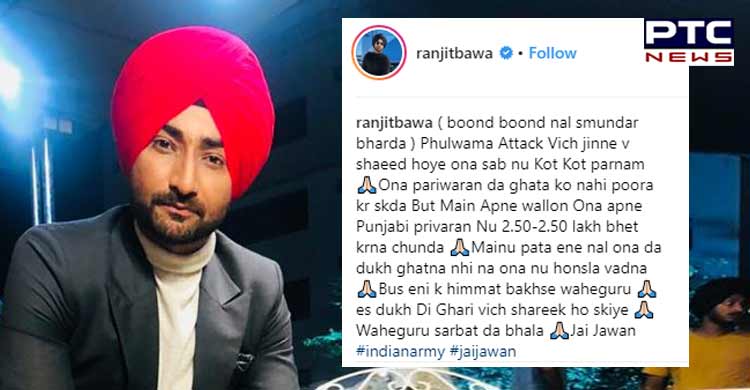 Pulwama terror attack : After Ammy Virk , Ranjit Bawa to donate Rs 2.5 Lakh each to martyr families from Punjab
In the wake of the Pulwama terror attack, Noted Punjabi singer Ranjit Bawa on Saturday announced to donate Rs 2.5 lakh  each to the families of martyrs from Punjab.
Ranjit Bawa took down to Instagram to share the news. He captioned the image, " Pulwama Attack Vich jinne v shaeed hoye ona sab nu Kot Kot parnam . Ona pariwaran da ghata ko nahi poora kr skda But Main Apne wallon Ona apne Punjabi privaran Nu 2.50-2.50 lakh bhet krna chunda. Mainu pata ene nal ona da dukh ghatna nhi na ona nu honsla vadna. Bus eni k himmat bakhse waheguru ?? es dukh Di Ghari vich shareek ho skiye . Waheguru sarbat da bhala "
Earlier, Punjabi Singer- Actor  Ammy Virk had announced  to donate Rs 10 lakh (2.5 lakh  each)  to the families of Pulwama martyrs from Punjab.