PTC Web Desk: Shiromani Akali Dal (SAD) chief Sukhbir Singh Badal on Friday sent a legal notice to Punjab Chief Minister Bhagwant Mann over alleged dissemination of false allegations regarding the Balasar Canal and Balasar Farm owned by the Badal family during an event at PAU Ludhiana on November 1. 
In the notice sent through Advocate Arshdeep Singh Kler, SAD chief Sukhbir Singh Badal Badal has demanded an apology from Chief Minister Bhagwant Mann within five days concerning his statements about the Balasar farm located in Haryana.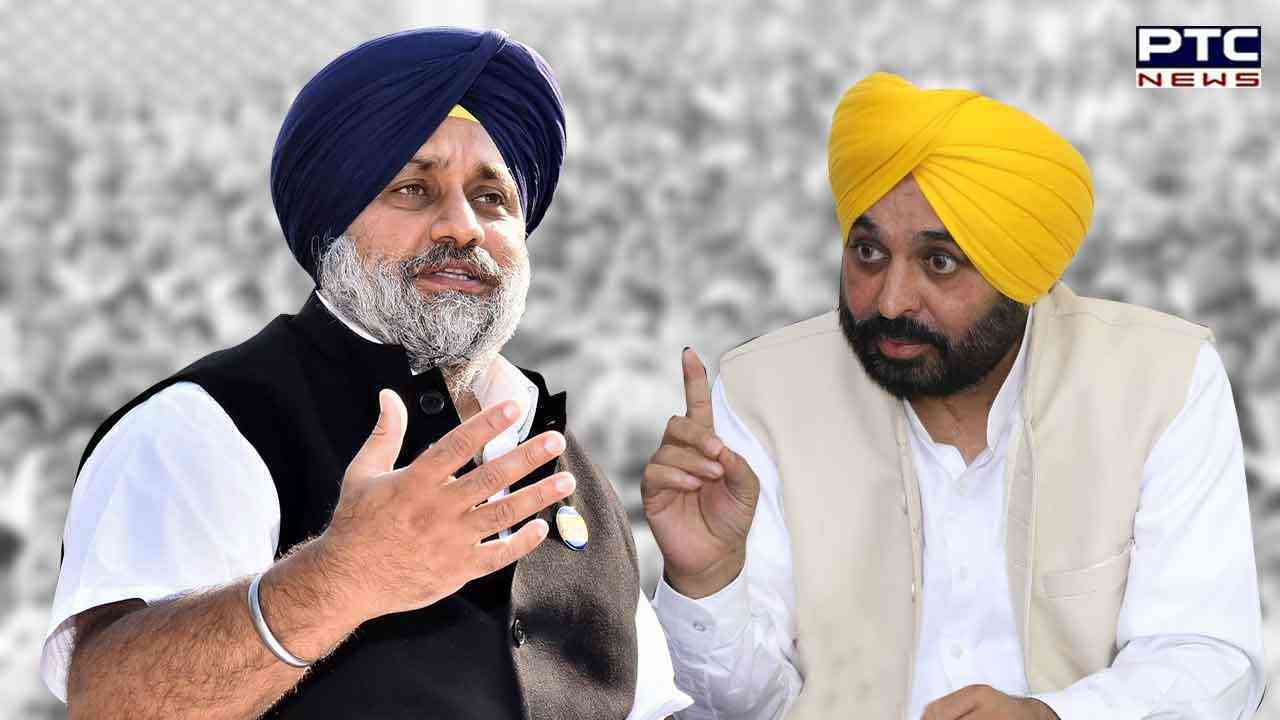 The notice states that the failure to comply with this request might result in the SAD pursuing a defamation case against Bhagwant Mann.
Describing Bhagwant Mann's comments against Badal Sr. as "malicious," Sukhbir Singh Badal, chief of the Shiromani Akali Dal (SAD), called for an apology. During an "open debate" titled 'Main Punjab Bolda Haan' at PAU, Ludhiana, Bhagwant Mann had directed criticism towards both the SAD and the Congress regarding the Sutlej-Yamuna Link (SYL) canal issue. He alleged that these parties had compromised the state's interests by engaging in the construction of the canal for their own selfish gains, labeling it as an "unforgivable crime."
Earlier, Sukhbir Singh Badal had stated that, "In the solitary monologue that was boycotted by the entire opposition, Bhagwant Mann had engaged in character assassination by alleging that former Punjab Chief Minister Parkash Singh Badal engaged in a quid pro quo arrangement by raising the height of the Bhakra Main Line canal in 1998. This purported action was supposedly done in exchange for the establishment of an irrigation branch to facilitate water supply to the Badal farm located in Balasar village, Haryana."
Sukhbir Singh Badal refuted the allegation and said, "This claim is entirely untrue." He highlighted historical facts by mentioning that Devi Lal assumed office as the Chief Minister of Haryana for the first time in 1977, whereas the Balasar branch had already been established back in February 1964. He also clarified that the Balasar branch was a segment of the Bani branch, which in turn was a component of the Panjoana branch within the Bhakra canal system.
Earlier also, the SAD chief had challenged Punjab CM Mann to provide evidence of any correspondence written by Parkash Singh Badal to the Central Government advocating for the expedited construction of the SYL canal.
- With inputs from our correspondent
Join Whatsapp Channel