Punjab Kabaddi player shot dead: In a shocking and gruesome incident, a young man was brutally murdered in the Dhilwan tehsil of Kapurthala, Punjab. The perpetrators not only ended his life but also displayed a chilling audacity by leaving his cut-up body outside his family's house. To add to the horror, they callously taunted the victim's parents, saying, "Here's your lion of a son."
The tragic event unfolded on a fateful Tuesday, leaving the local community and law enforcement in shock. The victim, identified as Hardeep Singh, known as Deepa, had been embroiled in a longstanding feud with another individual from the area named Harpreet Singh alias Happy. Both Deepa and Happy had prior cases registered against them at the Dhilwan police station in connection with their ongoing dispute.
The dreadful incident occurred around 10:30 pm when Deepa and his wife heard an ominous knock on their door. Given the late hour, they cautiously proceeded to the terrace to investigate. To their disbelief, they found Happy and approximately five other men loudly proclaiming that their son had been killed and that his fate had been sealed. Happy cruelly declared, "Your son has been killed. His work has been done. Here's your lion of a son," before departing with his accomplices.
Upon opening the door, Deepa's family discovered him in a severely injured state. Deepa managed to convey that Happy and his gang had attacked him with swords and kirpans. Rushing him to the civil hospital in Jalandhar, his family hoped for a miracle, but Deepa was tragically pronounced dead.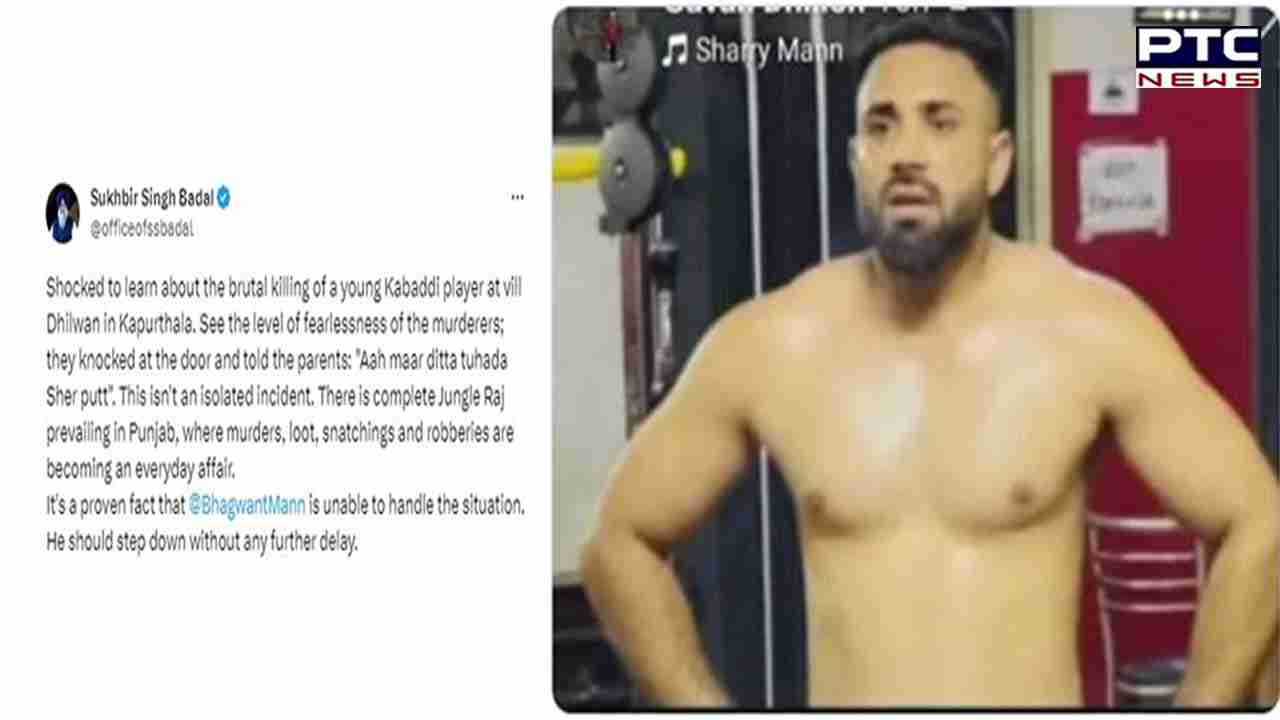 The grieving father identified Happy as the main accused in the horrific crime. However, as of now, no arrests have been made in connection with the case. The investigation is ongoing, with Assistant Sub-Inspector Kuldeep Singh leading the efforts. A case of murder has been registered against Happy and his five unidentified associates, and police authorities are conducting raids to apprehend them.
This gruesome incident has also sparked a political controversy, with Shiromani Akali Dal chief Sukhbir Singh Badal alleging that "jungle raj" has taken hold in Punjab under the leadership of Bhagwant Mann's Aam Aadmi Party government. Referring to Deepa as a kabaddi player, Badal expressed his condolences and emphasized that the audacity of the murderers underscores the deteriorating law and order situation in the state. He called for Chief Minister Bhagwant Mann to step down, citing the alarming rise in crimes such as murder, loot, snatchings, and robberies.
In a social media post, Badal expressed his anguish, saying, "Shocked to learn about the brutal killing of a young Kabaddi player at vill Dhilwan in Kapurthala. See the level of fearlessness of the murderers; they knocked at the door and told the parents: 'Aah maar ditta tuhada Sher putt' (we have killed your lion of a son)."
He went on to state, "This isn't an isolated incident. There is complete Jungle Raj prevailing in Punjab, where murders, loot, snatchings, and robberies are becoming an everyday affair. It's a proven fact that @BhagwantMann is unable to handle the situation. He should step down without any further delay."
- With inputs from agencies
Join Whatsapp Channel