Punjab Rail Roko Protest: Farmers of Kisan Mazdoor Sangharsh Committee continues to sit on railway tracks as they stage a 'Rail Roko Andolan.' More than 100 train services of the Ferozepur division in Punjab have been affected as farmers. 
Several farmer bodies led by the Kisan Mazdoor Sangharsh Committee are on a three-day 'rail blockade', which began on Thursday continued for Day 2 and will continue till Saturday (September 30).
Visuals from the protest site showed, hundreds of farmers sitting on railway tracks, raising slogans for their demands.
Farmers over their demands including Committee for MSP, withdrawal of cases regarding agitation in Delhi and compensation & jobs for families of farmers who died during the agitation.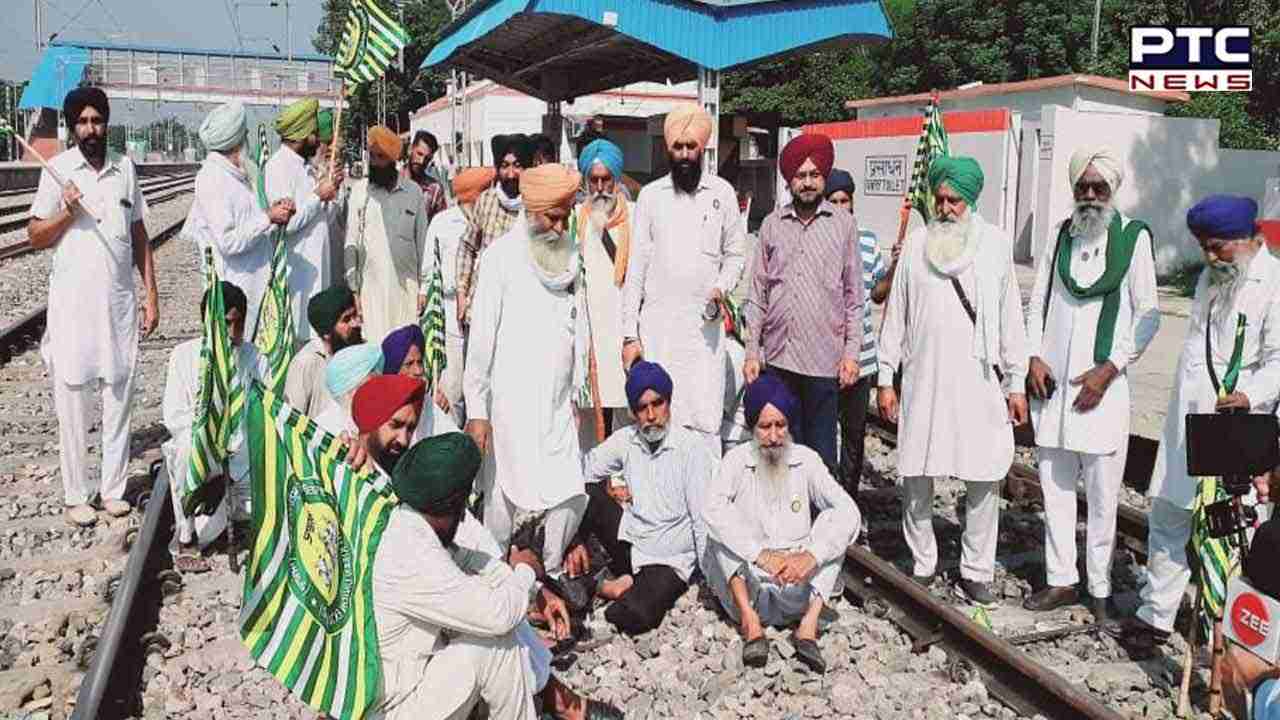 Check full list of trains cancelled                  
Due to Kisan agitation over FerozpurDivision today, the following trains have been cancelled/ short terminated/diverted as under : 
1. 04572 Dhuri- Sirsa
2. 04574 Ludhiana-Bhiwani
3. 04743 Hisar-Ludhiana
4. 04573Hisar-Ludhiana
5. 04575 Hisar-Ludhiana
6. 04571Bhiwani- Dhuri
7. 14654 Amritsar-Hisar
8. 04576 Ludhiana-Hisar
9. 04744 Ludhiana- Churu
10. 04745 Churu-Ludhiana
11. 04746 Ludhian-Hisar
12. 14653 Hisar- Amritsar
13. 12414 Jammutawi-Ajmer
14. 12413 Ajmer- Jammutawi
15.   19226 Jammutawi-BhagatkiKothi
16. 14646 Jammutawi-Jaiselmer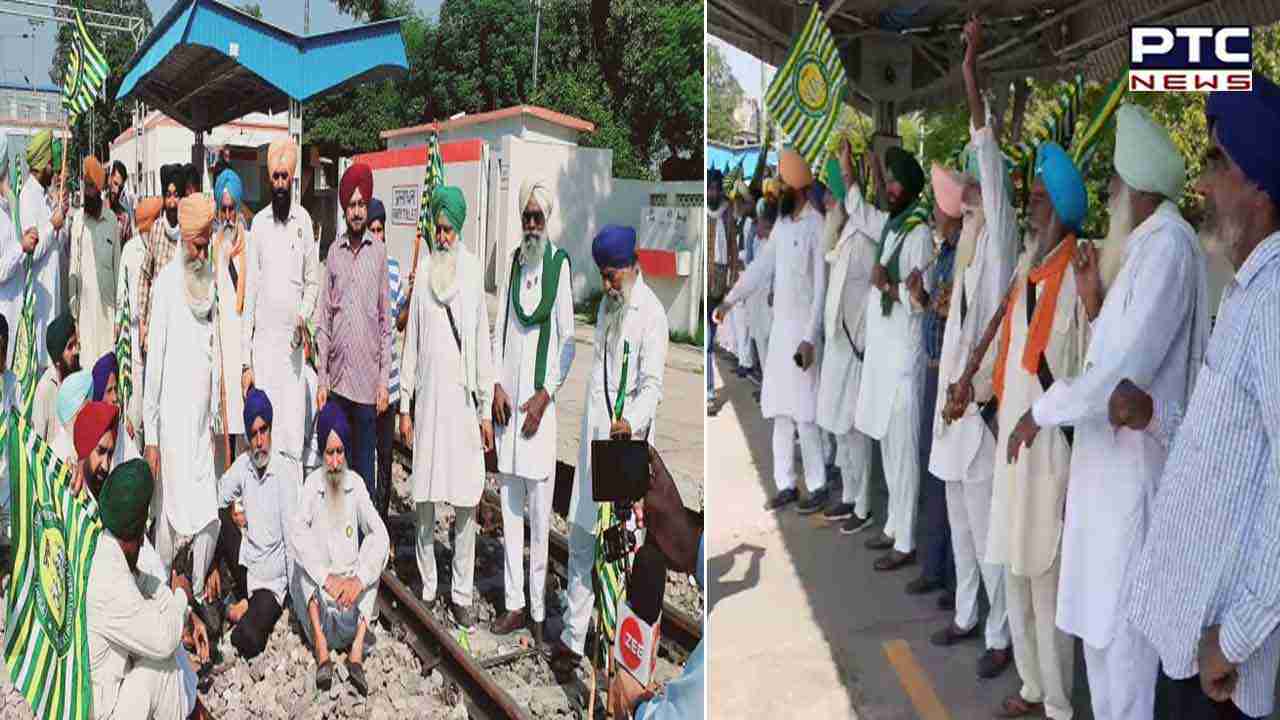 17.  14645 Jaiselmer-Jammutawi
18. 19224 Jammutawi-Ahmedabad
19.  14525 Ambala–Sriganganagar
20. 14526 Sriganganagr-Ambala
21. 13151 Kolkat-Jammutawi
22. 12379 Sealdah-Amritsar
23. 13005 Howrah-Amritsar
24. 19325 Indore-Amritsar
25. 12919 Ambedkarnagar-Katra
26. 19223 Ahmedabad-Jammutawi
27. 12903 Mumbai-Amritsar
28. 12053 Haridwar-Amritsar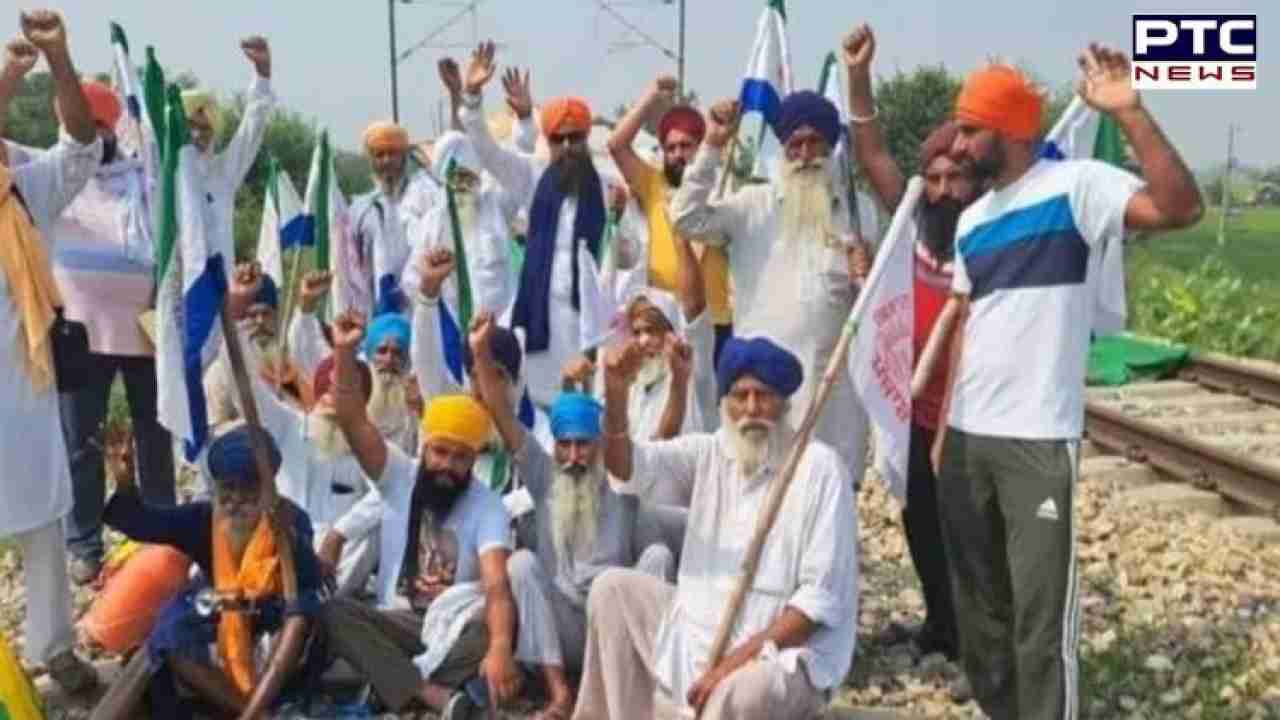 30. 14035 Delhi Sarai Rohilla-Pathankot
31. 14614 Ferozpor-Mohali
32. 22485 NewDelhi-Moga
33. 14633 Amritsar-Pathankot
34. 04555 Ludhiana-lohiankhas
35. 06996 Fazilka-Bhatinda
Diversion of trains
The three trains which have been diverted are:- 
12413 Ajmer-Jammutawi - via Ludhiana-Jalandhar-Jammutawi
12455  Delhi Sarai Rohilla- Bikaner - via Jakhal-Bhatinda-Sriganganagar
16788 Katra-Tirunelveli - via Pathankot-Jalandhar-Ludhiana
- PTC NEWS
Join Whatsapp Channel