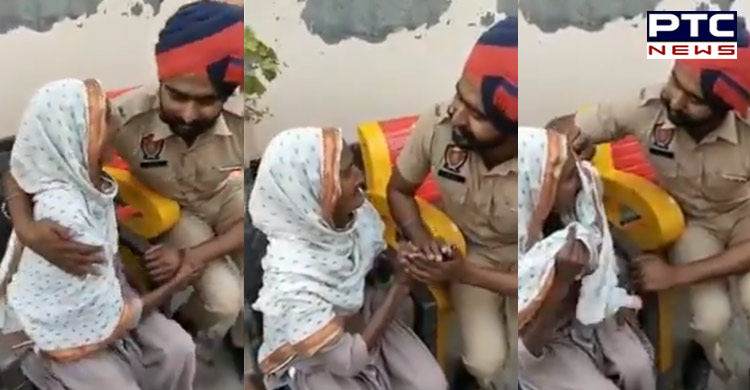 There is a human side of police constabulary also. There is video that has gone viral on social media depicting sensitive side of policemen. Punjab Police constable has won hearts on social media after a video went viral in which he consoles an elderly lady.
Watch it here: 
https://twitter.com/IPF_ORG/status/1198257945558933506?s=20
According to a tweet by the Indian Police Foundation (IPF), the constable demonstrated a deep sense of sensitivity and empathy towards the emotional lady. She was crying after she was informed that her son was arrested by the Malaysian police.
The video is captioned as "This Police Constable should be the ultimate role model for the police. Look at the deep sense of sensitivity and empathy with which he listens to and wipes the tears of this elderly citizen."
https://www.ptcnews.tv/video-ranu-mondal-refuses-to-pose-for-a-selfie-with-a-fan-evokes-criticism/
The viral video is receiving a lot of comments from the twitterati. "Must record and publicize these stories. Plenty of such stories but only the negative stuff gets traction. Police public collaboration is the way to go," said a social media user. Another user said, "He is a good human first and police next. I think we all should keep the identities in that order, always."
While another user said, "This is not a face of policeman, he is a good soul. He represents the teaching of his parents and teachers. There is another face of police which never leave any scope to ask Rs 10 from a street vendor as bribe."
-PTC News