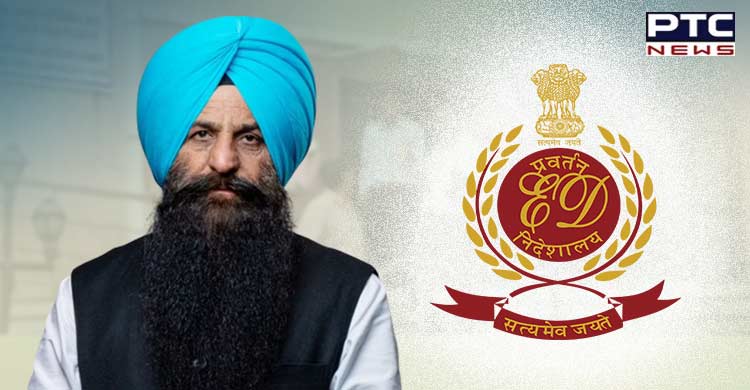 Jalandhar/Ludhiana, September 8: Just days after ED's raids on Punjab government officials and contractors in Punjab, the agency conducted a raid at the premises of Aam Aadmi Party MLA from Amargarh, Jaswant Singh Gajjan Majra, on Thursday.

According to sources, the agency's Chandigarh and Jalandhar teams raided the AAP MLA's residence, office, and other properties in various locations.
Sources also informed that ED is conducting searches at home and business premises of the MLA in Malerkotla; while his associates are also being investigated. In Ludhiana, ED has been searching the house and school of the AAP MLA.
As per the sources, Jaswant Singh Gajjan Majra's properties raided by the ED teams are - Tara Golden Homes, Malerkotla-Ludhiana road village Gaunspura Malerkotla; Tara Convent School Adamwal road Malerkotla; Tara Haweli Bararwal PS Sadar Dhuri distt Sangrur; Tara feeds village Jitwal PS Sadar Ahmedgarh district Malerkotla and Tara Feed Industry, village Jittwal Kalan.
Also Read | Punjab's Arpit Narang scores Rank 7 in NEET-UG 2022
Meanwhile, raids are being conducted at the Lasoi residence of Kirpal Singh. Kirpal Singh is an ex-army official and former PA of the AAP MLA Jaswant Singh. He, reportedly, looks after the personal work of Jaswant Singh Gajjan Majra.
According to sources, the ED has raided the premises of AAP MLA in connection with the CBI case filed against Jaswant Singh in connection with the Rs 40.92 crore bank fraud.
Reportedly, the bank fraud was committed by companies linked to AAP MLA Jaswant Singh and his associates (including M/s Tara Corporation Ltd, of which Singh was a director).
Notably, in May 2022, the CBI raided the MLA and others involved in the bank fraud. At the time, the CBI stated that the raided companies and their directors had borrowed several crores from the Bank of India's Ludhiana branch under the pretext of using it for business but instead diverted the funds for other purposes.
Also Read | Punjab: BSF files reply in HC in case of illegal mining near border area
-PTC News