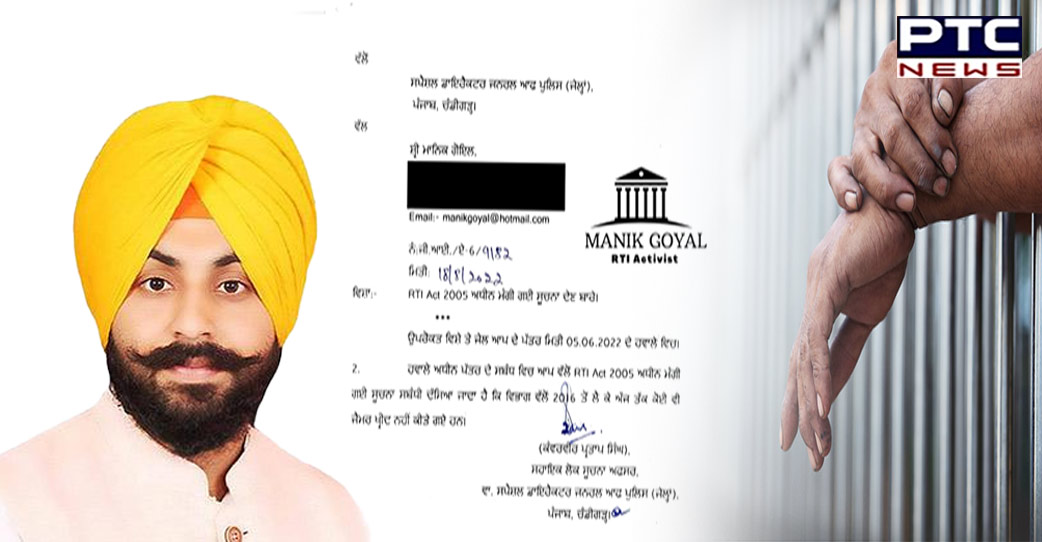 Chandigarh, September 14:  Latest RTI filed by Manik Goyal has revealed some startling facts that indicate towards weakened security of state jails. In the recent past, the big role of mobile phones used in jails has come out in the murder of famous singer Sidhu Moosewala. After which, the present government's Prisons Minister Harjot Bains has been repeatedly making claims to make prisons are now free of mobile phones.

Also Read| AAP initiates 3-level probe into 'audio leak' case of Punjab Minister Fauja Singh Sarari
Amidst these claims, an RTI activist living in Mansa has made a revelation through the information extracted through RTI that the Punjab Government Jail Department has not purchased a single mobile jammer in the last 6 years.
Manik Goyal said that previous governments did not take the use of mobile phones seriously in jails. 4G rolled out across India in late 2016 and the Jails Department of the Punjab government has not purchased jammers since early 2016. This clearly and directly means that the jammers installed in the 27 jails in Punjab are not capable of blocking the 4G signal that are very much prevalent today.
Goyal said that "Present government's Jails Minister Harjot Bains is making claims of mobile phone free jails, which are completely hollow. It is beyond comprehension why Jails Minister Harjot Bains is not installing 4G signal jammers in jails instead of making aerial claims. Most of the criminal nexus will be broken by shutting down the mobile phones in the jails. If Chief Minister Bhagwant Mann and Jails Minister Harjot Bains really want to break the nexus running through mobile phones in jails, they should install 4G jammers in jails on a priority basis and issue orders to jail officials to use Wi-Fi themselves."
This information RTI information is taken from the office of Special Director General of Police (Prisons), Punjab.
On, September 13 Punjab and Haryana High court also reprimanded Punjab government for not taking security of jails seriously, and observed that state government is putting security at stake to escape expenses of installing 4G jammers.
Also Read| DSGMC delegation arrives in Bhopal, to discuss Sikh issues with Madhya Pradesh CM
-PTC News