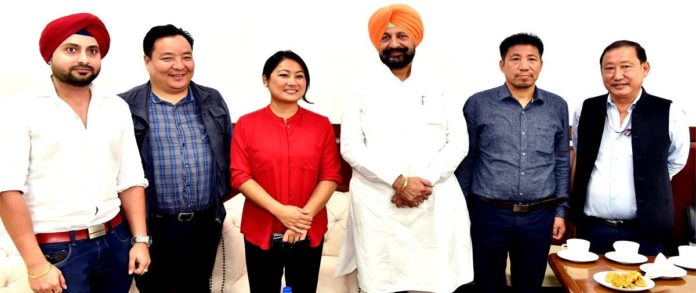 Punjab To Supply Pigs To Nagaland Worth Rs 200 Crore Annually
Punjab would be supplying Pigs to Nagaland worth Rs 200 crore annually.
According to Punjab Animal Husbandry Minister, Balbir Singh Sidhu, "Punjab will supply 8,000 pigs per month, thereby earning Rs 200 crore annually for pig farmers of the state."
This was decided after a high-level meeting of the minister with a delegation from the Nagaland Government headed by Principal Secretary, Lhoubeilatuo Kire including advisor Bongkhao Konyak, Joint Director, Anungla Imdong Phom among others in Punjab on Tuesday.
Sidhu assured that a memorandum of understanding will also be signed in the coming days.
Also Read: SAD Asks Jakhar To Stop From Cheap Photo Ops To Generate Cheap Publicity
According to the minister the people of Nagaland considers pork from Punjab to be hygienic, healthy and full of nutritious value as compared to the other parts of the country.
The Punjab Government would also be providing health certificates of the pigs to be supplied to Nagaland.
A month ago, Punjab government setting up a "State of Art Nucleus Farm" at Nabha to supply high-quality parent stock of piglet production to the Punjab farmers, following which, the deal was signed with Nagaland.
As part of its diversification from agriculture-based farming, Nagaland small farmers had started taking up pig rearing seriously since 2003 by bringing in high-quality sperms to raise quality and started feeding their pig with a nutritious diet of soya and maize.
In 2018, Punjab has raised its pork meat production from 0.92 tonnes last year to 1.2 tonnes with at least 817 organised pig farms which have 26,000 pigs.
-PTC NEWS