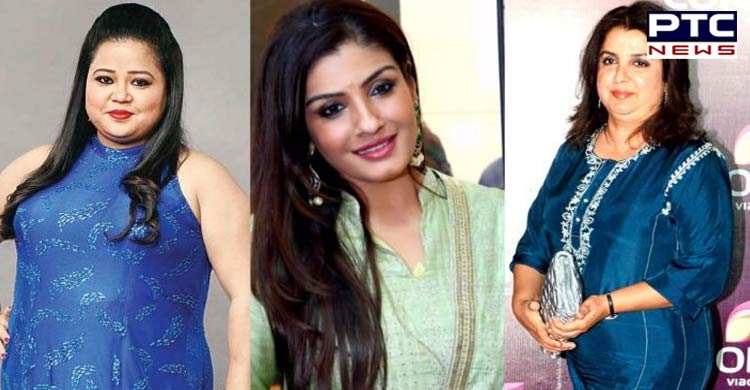 A fresh case has been registered against Raveena Tandon, Bharti Singh and Farah Khan in Rupnagar police station over the alleged controversy erupted on word 'Hallelujah'. Allegedly, the controversy came to light after the three of them were seen making fun of word Hallelujah in a show Back Benchers hosted by Farah Khan.
Bollywood actress Raveena Tandon, comedian Bharti Singh and producer-director Farah Khan were earlier booked by Amritsar police for hurting the relegious sentiments of a community during the show.
Earlier, Raveena Tandon took to twitter and clarified the incident. Along with a You Tube link, she wrote: "Please do watch this link. I haven't said a word that can be interpreted as an insult to any religion. The three of us (Farah Khan, Bharti Singh and I) never intended to offend anyone, but in case we did, my most sincere apologies to those who were hurt."
https://www.ptcnews.tv/raveena-tandon-clarifies-after-being-booked-for-hurting-religious-sentiments-with-bharti-singh-and-farah-khan-en/
The video shared by Raveena Tandon has been removed by the user. The complaint has been filed by Charan Masih Sahota who is a resident of Rupnagar. During the show, Farah Khan had asked Raveena and Bharti to spell Hallelujah. To this, Raveena wrote it right, but Bharti wrote – Helleluya. Farah asked Bharti to at least tell the meaning of it and she will award her with 5 marks.
Bharti said that "It is an abusing word, which can't be taken in front of everyone as families also watch this show. It is for the newly-weds, where husband can say Hele-Luya."
-PTC News