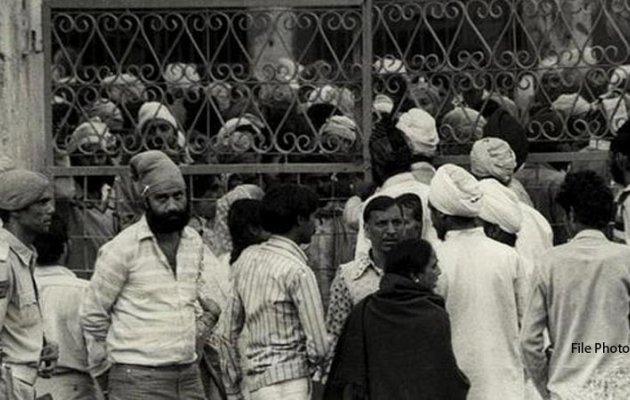 SAD asks Jakhar to ask CM to depose against Cong leaders he had indicted for perpetrating 1984 massacre of Sikhs
The Shiromani Akali Dal (SAD) today asked Punjab Congress president Sunil Jakhar to tell Punjabis whether he will ask chief minister Capt Amarinder Singh to depose against party leaders whom the latter held responsible for the 1984 Sikh genocide.
In a statement here, party mps Ranjit Singh Brahmpura and Balwinder Singh Bhundur said Sunil Jakhar should also tell if the Punjab Congress will ask party president Rahul Gandhi to expel leaders like Sajjan Kumar and Jagdish Tytler.
Stating that these were the questions the Pradesh Congress needed to answer before trying to spread lies and self concocted analysis in the name of the Ranjit Singh Commission report, the MPs said Jakhar should tell if he agreed to Capt Amarinder Singh's assertion that the Congress leaders had butchered Sikhs in their personal capacity in 1984. "If not then Jakhar should be the first person to demand that Capt Amarinder depose before the SIT formed by the Supreme Court to probe the mass murder of Sikhs in 1984".
Stating that the Congress party was now doing exactly what it did before leading to an era of terrorism in the State, Mr Brahmpura and Mr Bhundur said "we chargesheet the Congress for aligning with ISI agents to disturb the hard won peace of Punjab". The leaders said Jakhar should explain why the Congress party had aligned with bogus Jathedars like Baljit Singh Daduwal who were agents of the ISI. "Jakhar should tell why his government's ministers are consorting with these Jathedars and why his chief minister was meeting them at midnight at his official residence".
The senior leaders also advised Jakhar to first read up the Ranjit Singh Commission report before trying to spread lies and initiating a disinformation campaign in utter frustration after failing to find any evidence against the erstwhile SAD- BJP government in any cases of sacrilege of Sri Guru Granth Sahib ji. They said Jakhar should first tell if there was a single word or sentence in the 563 page report which indicted the SAD or its senior leaders. "If not then he should not try to befool Punjabis with malicious lies and slander".
The Akali leaders said as far as the party was concerned it had conclusively proved that the Commisison report was written following a series of meetings at the residence of radical Sikh leader Chanan Singh Sidhu which were attended by Congress minister Tript Rajinder Bajwa, AAP leader Sukhpal Khaira and Justice (Retd) Ranjit Singh. "We have also proved that sarkari Jathedar Baljit Singh Daduwal held a late night secret meeting with the chief minister before the report was tabled in the Vidhan Sabha. All this exposes the Congress party and proves that it is collaborating with radical groups who are aligned with Pakistan's ISI agency. Jakhar should tell Punjabis why the Congress is doing all this under his watch. Tomorrow he will be held directly responsible for destroying the hard won peace and communal harmony in the State. He should stop playing with fire and try to work to fulfil the promises made to farmers, youth and Dalits by the Congress party instead of resorting to politics of falsehood", the leaders added.
-PTC NEWS