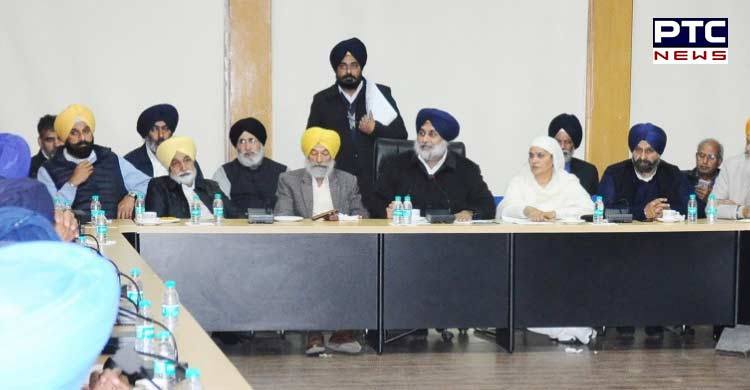 SAD President addresses meeting in office headquarters to prepare party cadre for the ensuing parliamentary elections
Preparing for the ensuing Parliamentary elections the SAD President urged his party to prepare for the elections and oust the congress . Sukhbir claimed  "war" footing preparedness of SAD , and said that " it was clear that congress and APP both complimented each other in " fooling " the electorate of the state and the punjabi's . However the state was  aware that the " promises" made by the congress party in its manifesto never translated into deliverance. Be it loan waiver for farmers or employment for the youth in the state, Amarinder Singh had failed miserably on all fronts. The schools, the civil hospitals the basic requirements for the common man were in " shambles" and an entire generation of school going children were being denied basic human right of education.
Also Read: Sukhbir Badal asks Rahul Gandhi why he is not expelling Jagdish Tytler or removing Kamal Nath as CM of Madhya Pradesh
Addressing his party leaders and office bearers the SAD president said that in the next three months he would not rest for a day and cover the entire state addressing each " halqa" to interact with the people and make them aware of the dire situation the congress party has pushed Punjab into . Sukhbir making a clarion call against the Congress party said " the SAD has always stood for the democratic rights and protection of the state's interests and it would not shy away from its duty and role in the political arena."
Also Read: Gehlot to be Rajasthan CM, Pilot his deputy
Claiming confidence that the Parliament election will see congress routed out the SAD president directed all party leaders and office bearers to bring awareness in the electorate and urged them to work on "war footing" to bring victory to the SAD one of the oldest political party in the country. He said that the biggest issues facing the state were not being addressed by the state government. The farmer was in extreme economic distress, the common man could not afford expensive medical treatment in private hospitals , children of the state were being denied education.
Also Read: Register cases against govt officials denying dues to farmers starting from top - Sukhbir Badal
The meeting was attended by Balwinder Singh Bhunder,Mahesh Inder Singh Grewal, Bikram Singh Majithia, Bibi Jagir Kaur Dr.Daljit Singh Cheema,Parminder Singh Dhindsa,Mahinder Kaur Josh,Hira Singh Gabadia,Gulzar Singh Ranike,Baldev Mann,Janmeja Singh Sekhon,Bibi Opinderjit Kaur,Surjit Singh Rakhra,NK Sharma,Mantar Brar,Parmbans Singh Bunty Romana,. All MLA's and ex MLA's and district presidents and office bearers attended the meeting.
-PTC NEWS