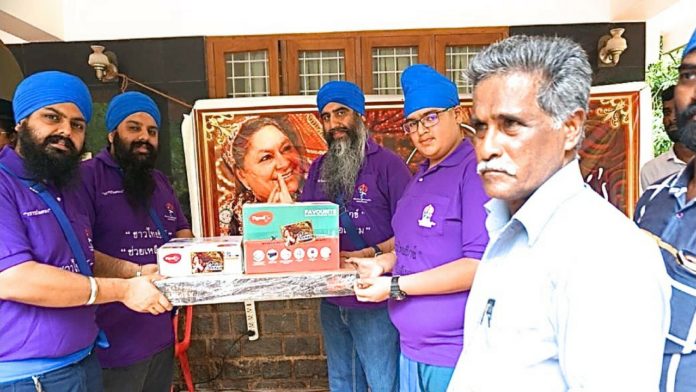 Sant Baba Satnam Singh Ji and MGCA recited the MOOL MANTAR in Kerala before giving AID
Mahapursh Sant Baba Satnam Singh Ji, Maharaja Garden City Association (MGCA), collaborates with Nirmal Charitable Trust (NCT), and sent teams to visit Kerala to deliver aid to flood-stricken families in the aftermath of the mass floods of 15th August that inundated the state.
Bhai Sahib Bhai Nirmal Singh Ji Khalsa And Biba Arpana Kaur Ji said that the images of destruction coming from Kerala were disturbing and they wanted to do something for them. They wanted to act quickly to somehow bring relief to the plight of local Keralites.
The Kerala Aid Mission was hence concieved by them as the main charity event out of the 60 charity events being organized worldwide, in honor of The 60th Birthday celebrations of respected RANIMAJI.
Also Read: Punjab CM Greets People on the 351st Parkash Purb of Sri Guru Gobind Singh Ji
Aid relief was delivered to Kerala through 2 Aid-Missions. With the help of donors from Thailand, China, Singapore, Malaysia, Dubai, U.K. and U.S.A, a total of 700 aid-relief-packs were distributed during our 2 missions.
MRP details of each Relief-Pack: Gas stove costs Rs1795, Pressure cooker costs Rs995, Steel cooking pot costs Rs799.
At every area of distribution, Team MGCA recited the MOOL MANTAR 5 Times to pray for the quick return to normal life for the locals.
Summary of MGCA's 2 Aid-Missions are as follows:
A 4-member team from Bangkok, Thailand visited 4 villages in Kerala and distributed a total of 300 aid-relief-packs to 400 families, as some families elected to take only 1 or 2 items from each pack according to their needs, rather than taking the whole pack. Areas and details of distribution are as follows:
THURUTHOORE Village- 180 packs
PUTHENVELIKKARA Village, ERNAKULAM District- 20 packs
EAST KADUNGALLOOR Village- 50 packs
NEDUMBASSERY Village- 50 packs
Another team of 3-member from Bangkok and Singapore was sent to Kerala for this aid-mission. Upon their arrival, Team MGCA were met by The Minister for Food & Civil Supplies for the state of Kerala, The Honorable Mr. P. Thilothaman, who highly commended MGCA's aid efforts.
This time a 4th item in the form of a blanket at the cost of Rs200/- was added to each relief-pack. Team MGCA visited 2 villages to distribute a total of 400 relief-packs during this mission. Areas and details of distribution are as follows:
ALLEPY- 300 packs
NEDUMBASSERY Village- 100 packs
-PTC NEWS