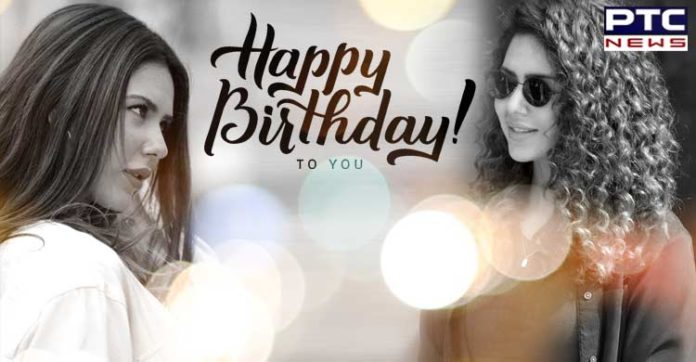 Sonam Bajwa Birthday: The Style-queen is celebrating her birthday on August 16, Friday. Sonam alias Sonampreet Bajwa is an Indian model and actress who is more active in Punjabi, Tamil, and Hindi film industry. Sonam Bajwa participated in the Femina Miss India contest in 2012, back then. Also, Sonam has played the leading female role in the 2014 Punjabi super hit film Punjab 1984.
Let's have a look at these Instagram Photos on Sonam Bajwa Birthday, which will make you fall for her.
Isn't she pretty? Well, of course, the charm on her face and the innocense in her looks.
Well, Well, Well, that's how she rules hearts. That's the reason why she is called the Style-Queen.
Some Kick-ass Attitude, which shows how cool she is…
Gym-freak! No, she is just more concerened about her health and that's why she spends her time in the Gyms, doing excercise and work-outs.
The Lady Singham, knows well to pose, despite crazy day…
Who will not fall for such a pretty lady?
"Fashion Ka hai Ye Jalwa", this Bollywood lyric is perfectly suitable for the Punjabi Actress Sonam Bajwa. Just adore her smile and you will just keep adoring…
Sonam Bajwa Instagram is flooded with such pretty charm.
Punjabi Girl, with western attire and perfect look for the pose in this adorable click.
Hi Ally, Well, no doubt you are lucky boy, lucky to be posing with her in this beautiful picture.
Well, the morning coffee, is much needed.
Cheat meal, well, adoring her is simply the meal for those who follows her…
Selfie, yeah, that's what everyone wants. Say Cheese…
The bossy Girl, the bossy Sonam…
God, isn't this injustice, to fill all the beauty in this lady? Well, Sonam Bajwa… Just adore her and your day will get a boost.
Blue sky has no limits and hence, Sonam Bajwa is having no limits, therefore, she keeps on doing blockbusters.
Well, time needs to stop here, as the more you adore her, the more you scroll in her Instagram account. That's all from Sonam Bajwa Birthday special. Wishing her a very happy birthday.
-PTC News