Mohali, March 4: Gatka team of Punjab won 3 gold and 2 bronze medals in the games organised under Khelo India Youth Games in Madhya Pradesh. These talented players and their coaches were honored in Mohali on Saturday.
Gatka team players were felicitated in a simple yet impressive ceremony at Allena Auto Industries in Mohali.
Also Read | No fruitful purpose would be served keeping me in custody: Manish Sisodia in bail plea
Notably, different teams of Punjab participated in different sports activities in Khelo India Youth Games. Meanwhile, Punjab's Gatka team begged the maximum number of medals for Punjab.
Divulging more details about Khelo India Youth Games, General Secretary of Punjab Gatka Association Baljinder Singh Toor said that Khelo India Youth Games were organised by the Government of India and Sports Authority of India from January 30 to February 11 in Madhya Pradesh.
Players from Punjab won a total of 10 gold medals in Khelo India Youth Games . Out of these 10 gold medals, 3 gold medals have been won by the players of gatka. Today these Gatka players were honored by the entire team of the Punjab Gatka Association.
Amit Talwar IAS Director of Sports, Punjab and Sardar Harcharan Singh Bhullar IPS President, Gatka Federation of India attended the function as Chief Guest.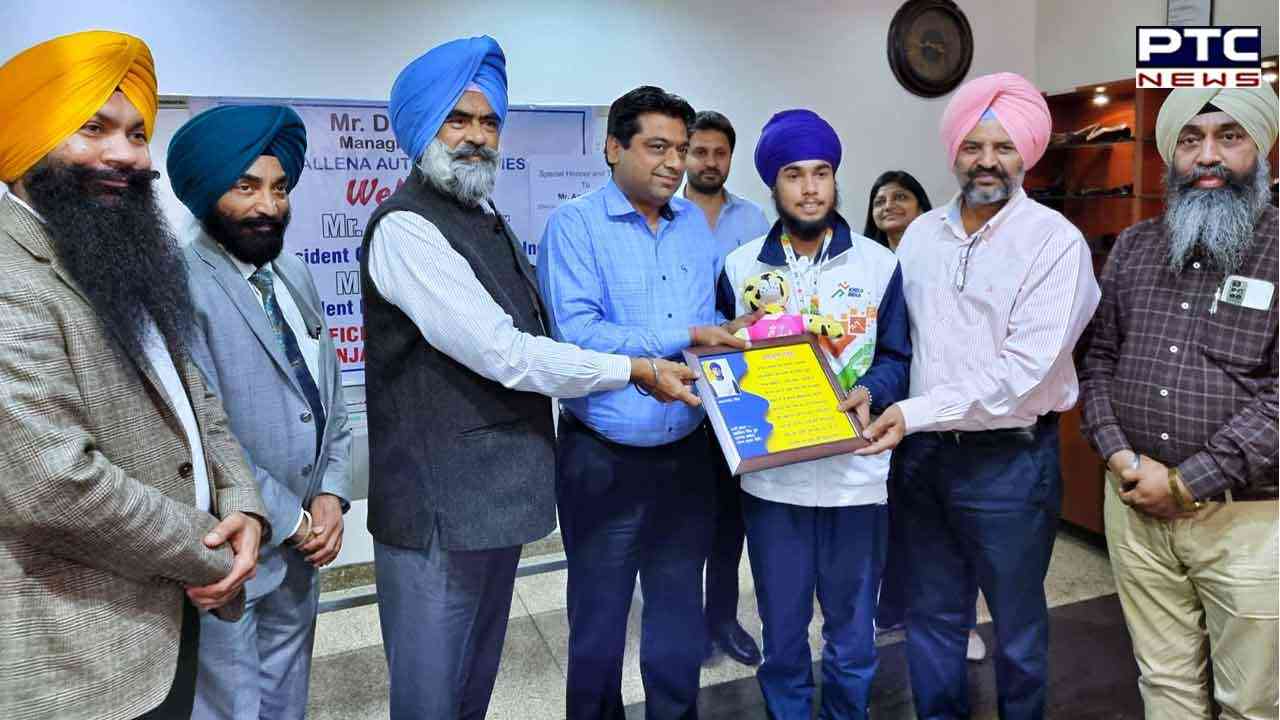 Speaking on the occasion, Amit Talwar encouraged the players and said that it is a matter of pride for Punjab that these talented children have brought medals to Punjab in Madhya Pradesh by upholding the glory of Punjab's ancient game Gatka. He assured that in the coming times, the Punjab government would frame new policies to promote Gatka.
Meanwhile, Gatka Federation of India President Harcharan Singh Bhullar said that the entire team of Gatka Federation of India has been working hard since 2008 to get Gatka recognized at the national level. Due to this, the game of Gatka is now being played in other states of India as well and it has also been recognized by the Government of India.
On this occasion, the President of the Punjab Gatka Association Rajinder Singh Sohal congratulated and encouraged the winners. In his address, he said that Gatka players have a bright future, so more and more players should come towards this game.
Gatka players honored include Jotinder Singh, Armanjot Singh, Akashdeep Singh, Gurpreet Singh, and In girls Gurwinder Kaur, Jaspreet Kaur, Prabhkiran Kaur, Khushveer Kaur, and Mehakpreet Kaur. Team manager Jaswinder Singh Pabla, coach Amanjeet Singh Bhatti and Sandeep Kaur, who is part of the support staff, were also felicitated.
Also Read | Truck rams into bus on Yamuna Nagar-Panchkula highway; seven dead, four injured
Ranbir Singh Thapar of Elina Auto Industries extended a warm welcome to all the chief guests on the occasion.
Davinder Singh Jugni, Vice President of Punjab Gatka Association, Jagkiran Kaur Waraich, Joint Secretary of Punjab Gatka Association, Media Incharge Prabhmeet Singh, Napinder Singh Nimana, Manjit Singh Gatka master, Arvinder kaur, Rajinder Singh were also present on the occasion.
- PTC NEWS