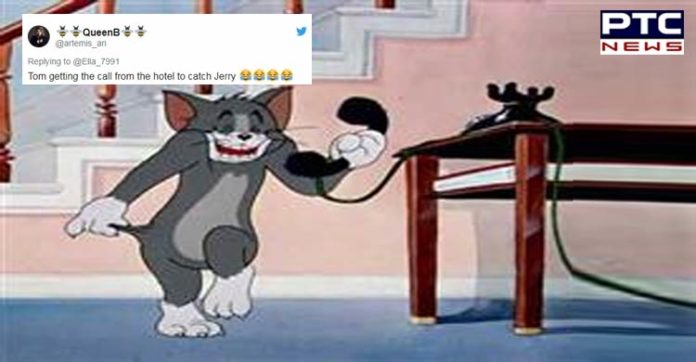 An Arab man called the hotel reception in UK to complain about a Jerry in his room. The man visited to UK and called up the reception. The whole conversation was filmed and the video has left netizens in splits. The video is captioned: This Arab guy calls the hotel reception to complain about a mouse in his room. Listen to how he describes the situation ??????."
The video shows man informing the hotel staff that his English is not that good. He asks the receptionist if he knows abouyt popular cartoon show Tom and Jerry. The receptionist replies positively and the guest says, "Jerry is here in my room."

The receptionist confirms the information, "You have a mouse in your room." The conversation ended up being more hilarious when the guest requested the hotel staff to bring Tom along with them. To this, the hotel staff replied: "We don't have a Tom in the hotel."
Watch it here:
This Arab guy calls the hotel reception to complain about a mouse in his room. Listen to how he describes the situation ?????? pic.twitter.com/feObtAj9Bp

— Arab Brincess (@Ella_7991) January 17, 2020
Meanwhile, the video created a laughing riot on Twitter, which has been viewed over 4 million times and garnered over 3.4 lakh likes and more than 1.3 lakh retweets.
Here's how netizens are reacting:
Tom getting the call from the hotel to catch Jerry ???? pic.twitter.com/92BbTsvG0s

— ??QueenB?? (@artemis_ari) January 18, 2020
Guy: Can you bring Tom

Jerry:

???????? pic.twitter.com/orHi4NE7vU

— Veronica (@Misssoawesome1) January 17, 2020
Hidden talent of Smriti Irani! Instagram post reveals it all
The problem is
Tom? has never caught Jery.

My arab? brother will live with Jery.

— Mustafa Akman (@DrmustafaakmanE) January 17, 2020
"Bring Tom with you"

Tom when he gets that call on his day off: pic.twitter.com/RxQbWAqRad

— ?? the nastiness is extraordinary ?? (@CoquitoMami) January 17, 2020
The fact that the man on the the other end says "we don't have Tom here" instead of saying "a cat" killed me ??

— ?? J.Rodrigues ?? (@JayJonesR) January 17, 2020
A user replied: "Jerry in the corner of the room watching the man call the front desk knowing he's untouchable." Giving a suggestion to the hospital staff, a user wrote: "There's always at least one cat that hangs out outside the hotel and basically lives there, they could get Tom."
-PTC News