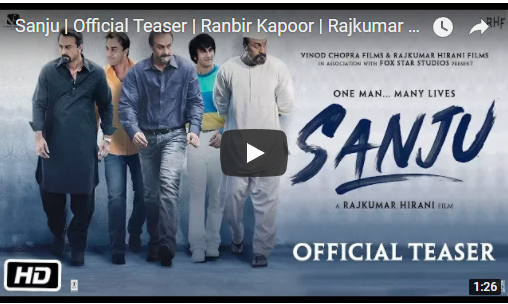 Trailer: Ranbir Kapoor as Sanjay Dutt in Sanju is beyond spectacular!
If the poster of Rajkumar Hirani's Sanju was absolutely unbelievable, can you even imagine what the teaser will be like?
Ranbir Kapoor in Barfi, Rockstar or be it in Tamasha; he adapts to the character so effortlessly! While the film industry and fans, watch Sanjay Dutt- up close and personal, it sends a lot of baggage to look like him on Ranbir's shoulders. But! He is always a surprise to the fans and we are sure his own self.
Not taking much time, we would like you to believe your own eyes! Here's the trailer of the upcoming film based on true events in Sanjay Dutt's life, played by Ranbir Kapoor
Sanju has been directed by Rajkumar Hirani and co-stars Sonam Kapoor, Anushka Sharma and Vicky Kaushal. It is scheduled to release on June 29.
-PTC News