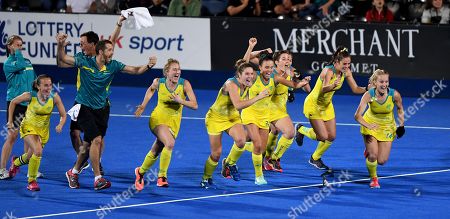 Australia stroked out Argentina to enter semi finals of the Vitality Hockey Women's World Cup in London on Wednesday. Australia won 4-3 in sudden death of penalty shoot out after the two teams played a goalless draw in the regulation period and were still tied 3-3 at the end of first round of penalty shoot out.
It was Peris Brooke who scored to break the deadlock in the sudden death after Australian goalkeeper Rachael Lynch had foiled Merino Delifina's attempt.
Australia will now play the winner of the  defending champions the Netherlands and the defending Olympic champions England match.
Argentina were unlucky not to score during the stipulated period as the South Americans enjoyed slight edge both in run of play and entries into striking circle. The Australians had put up a solid defence where their goalkeeper Rachael Lynch was outstanding.