London, November 13: External Affairs Minister (EAM) S Jaishankar, who is on a four-day official trip to the UK, celebrated Diwali by offering prayers at the BAPS Shri Swaminarayan Mandir (Neasden Temple) in London.
Speaking to the media outside, he said India was the fastest-growing large economy today. "India is today the fastest-growing large economy. There is leadership. There is vision. There is good governance," he said.
The EAM said: "...The image of India--a large part of it is what happens in Bharat by all of us but a large part of it is what all you do in your everyday life...Whenever PM Modi goes out, he will never miss a chance to express gratitude to Mother India...We had a very successful G20 presidency in very difficult circumstances...."
The BAPS Shri Swaminarayan Mandir is Europe's first authentic and traditionally built Hindu temple. On his visit to the temple, the EAM and his wife, Kyoko Jaishankar, offered the Abhishek Puja.
Jaishankar's visit to the Neasden Temple on Diwali highlighted the importance of cultural connections as part of bilateral relations. The trip advanced shared political and economic interests.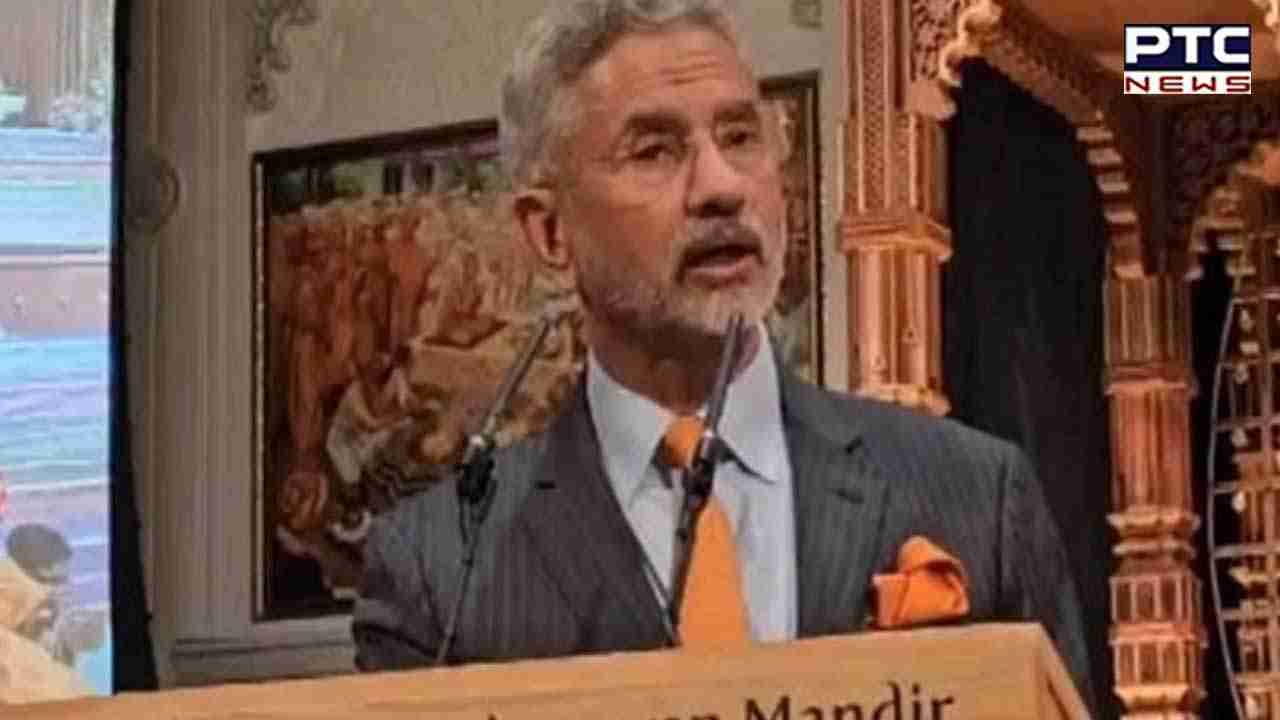 The EAM said: "Shubh Diwali to all of you. Nothing can be happier than being among our own people on such an auspicious occasion. I am here on a visit to the United Kingdom and it was natural that on an occasion like Deepawali, I would look for the opportunity to come & be with the members of the community...Modi Sarkar works 24*7 every day, we all know that."
He said: "On Deepawali day, I have come from a long meeting with Rishi Sunak. We had the occasion to discuss our relations with the UK & India...I am a testament to how much the image of Bharat has changed...."
EAM Jaishankar met UK Prime Minister Rishi Sunak and his wife Akshata Murty at 10 Downing Street on Sunday and conveyed the best wishes of Prime Minister Narendra Modi on Diwali, and also gifted him a Lord Ganesha statue and a cricket bat signed by Indian batting great Virat Kohli.
Taking to his official handle on X, EAM Jaishankar shared details about his meeting with the UK PM. He posted, "Delighted to call on Prime Minister @RishiSunak on #Diwali Day. Conveyed the best wishes of PM @narendramodi. India and UK are actively engaged in reframing the relationship for contemporary times. Thank Mr. and Mrs. Sunak for their warm reception and gracious hospitality."
Jaishankar is currently on an official visit to the United Kingdom. He arrived in Britain on Saturday and will conclude his visit on November 15. He is scheduled to meet several other dignitaries during his visit.
India and the UK have a "growing bilateral partnership", the MEA stated in a release earlier, noting that the two countries launched a Comprehensive Strategic Partnership in 2021.
"India and the UK share a warm and thriving relationship. The India-UK Comprehensive Strategic Partnership was launched in 2021 along with the India-UK Roadmap 2030," the MEA stated in its release.
"The Roadmap is a commitment to a partnership that delivers for both the countries. EAM's visit will give new impetus to the friendly ties between the two countries," it added.
Significantly, India and the UK are negotiating a Free Trade Agreement. Talks for FTA between India and the UK started in 2022 and the 12th round of negotiations took place from August 8-31 this year.
- ANI
Join Whatsapp Channel